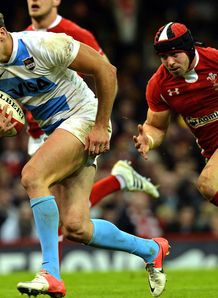 Related links
Teams
Also see
Juan Imhoff has been described as a 'little phenomenon' by Racing-Metro team-mate Dimitri Szarzewski ahead of France hosting Argentina in Lille.
Imhoff certainly made up for the disappointment of being left on the replacements bench during Argentina's debut in the Rugby Championship earlier this year by scoring a try and creating another in the Pumas 26-12 victory over Six Nations Grand Slam champs Wales last week.
"It has been a long time, since Ignacio Corleto (now 34 and who played in three World Cups including 2007 where they finished third), since we have had a back like this," said Racing coach and former Pumas star Gonzalo Quesada.
"He creates fear in the opposing defence and is able to finish off his moves clinically."
Imhoff certainly has the pedigree to succeed at the highest level as he is the son of former Pumas coach Jose Imhoff.
"He was only 10 or 11 and he was often at training sessions where he would fulfil the role of ballboy," recalled Quesada.
Imhoff, who began his career with Argentine outfit Rosario, secured his move to Racing after a successful World Cup last year where he scored two tries as the Pumas reached the quarters, losing to eventual champions the All Blacks.
Initially he was taken on by Racing as a temporary replacement for the injured Benjamin Fall but the club decided to extend his contract after a series of impressive performances despite the fact he would miss a large part of the first-half of the season because of international commitments.
Szarzewski said that Imhoff's reduced role at the Rugby Championship had only made him more determined to prove himself when he returned to France.
"He was a little frustrated when he returned to Racing, he was really desperate to display his ability. Now he is showing everybody that he is capable of making the difference in a match, at any given moment," said the hooker.
"He is a little phenomenon."
Imhoff, who has from an early age stated he was destined for the top, said that his stunning form had been helped by being so far from home - far from being homesick he has thrived on being abroad.
"Here, I am a very long way away from my family," he said.
"It is very useful for me, it helps me to grow up and to mature as a player."
Quesada, though, says that for all the plaudits being showered on him, Imhoff still has much to do before he is the finished article.
"He is a player who has upped his workrate physically because he realised he was a bit short on that side of things at the highest level," said Quesada.
"And he also acknowledges that he has a lot of progress to make on individual technique: his passing, his kicking game, his defence, and his ability to clean up at the ruck."