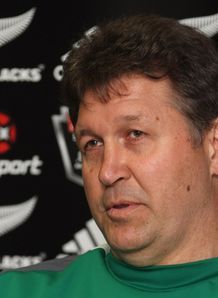 Related links
Teams
Also see
Ireland forwards coach Gert Smal said he's excited about the new talent that is progressing through the ranks in the international setup at the current time.
Smal spoke of "positive energy" in the squad despite the loss to South Africa, with the coach happy with the way the new players stepped up.
"I don't want to be giving excuses from what happened in the course of the week, but let me put it this way, I think these weeks have been the most challenging two weeks, for me specifically, with the Irish team," he told irishrugby.ie.
"A little of the combinations put pressure on us a little bit. If we can get a little more forward momentum, playing in the right places, be aggressive in our ball carriers, get their team-mates to be aggressive in their clear outs, we'll start creating go-forward ball."
Four players made their debut against South Africa last weekend - Richardt Strauss, David Kilcoyne, Michael Bent and Iain Henderson - which made the day extra special for Smal.
"This is a special group. It's a different group to what we have had in the past. They've got a different ambition and they also want to create their own legacy, as they have said themselves," he added.
"With good players coming in and out because of injuries, the excitement and ambition they have to create their own legacy is quite important.
"That's what I'm experiencing at the moment and there's a lot of positive energy around.
"I am very excited by Dave (Kilcoyne). He is still cutting his teeth in the squad I think, but the last two weeks he has been working really hard. He is an exciting little player.
"You know what his nickname is? It's 'Killer'. That's what you experience with him, in the runs, in the practice, the way he does things. He looks like a little killer.
"He is a great little player. We also have Stephen Archer with us now in the squad, they are both exciting little players that we can work with in the future."