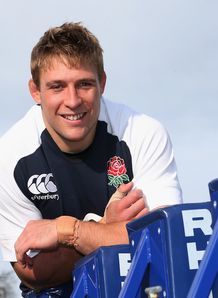 Related links
Teams
Tom Youngs has come a long away in six years, a conversation with Heyneke Meyer setting him on course for his England debut on Saturday.
Youngs began his career in the centre but after a discussion with Meyer when he was Director of Rugby at Leicester Tigers, he started what was a been a gruelling, but successful conversion to the front-row.
Despite touring South Africa with England in June, Youngs was unable to win a first Test cap. Five months later - down to a burst of good form and injury to Dylan Hartley - he will get his first cap against Fiji at Twickenham.
"Going to South Africa helped massively in terms of preparing me for this November," Youngs told Planet Rugby.
"I've come in now and know the coaching team and the plan of attack which means I'm up to speed. Overall I think going on the tour gave me a lot of confidence ahead of this season."
Many coaches have been integral to Youngs getting the chance to play for his country, including a team-mate with who he is battling for the number two shirt at Leicester.
"George Chuter has been outstanding and is always there to help, even though we're competing for the same spot," Youngs added.
"Simon Hardy at the RFU has been a huge help for me in terms of my throwing. Then there's Cockers (Leicester boss Richard Cockerill) as well. There really are a lot of people who have helped me get here."
Whilst he showed promise before travelling to South Africa, it has been an extended run in the Leicester side this season that has seen Youngs move up the pecking order. Playing at Wembley against Saracens and in the Heineken Cup are two occasions that will help him prepare for the unexpected at Twickenham.
"I don't really know what to expect," Youngs continued.
"I can ask the guys around me and take what I've experienced in the Heineken Cup playing in Toulouse, but until you run out at Twickenham I just won't know. I've sat in the crowd and experienced that atmosphere a few times and it's loud enough in the crowd, so to be out on the pitch will be electric."
One area of scrutiny has been Youngs' ability at the line-out, with a blip coming against Gloucester a few weeks ago when Leicester lost at Kingsholm. As Youngs adapts to the rigours of facing the media, his mind remains focused on what he is doing, rather than the criticism.
"I do get a bit bored with it. The scrutiny is on me having moved from the centre, but if you look at the figures and percentages it's not half as bad as people make out," Youngs stated.
"A bad lineout can be down to a number of things - the lifters, timing, communication - and hookers tend to get blamed and that is something I have had to deal with.
"I know where I'm at and where I need to get to be a world-class thrower and I need to become one to get people off my back. It's not something that annoys me - it inspires me."
Youngs will square up to one of the game's greatest in Keven Mealamu when England take on the All Blacks, and he admits that he has been aware of how the world's best operate whilst at the same time focusing on his own game.
"Watching them play, I've taken notes on their styles but it has mainly been about myself and fine-tuning my game without looking at anyone else. Everyone throws differently and you have to find your own comfortable technique," he continued.
The meteoric rise for Youngs in 2012 is rather special - he had not started a game for Leicester at hooker before he travelled to South Africa. However, he has not yet taken a moment to reflect.
"You are so far into it you don't really get a chance to step back and look at how far you've come. I haven't been able to do that yet and I'm not sure when I will," Youngs concluded.
"It's a chance for me to enjoy the experience. It sounds drastic, but I might get injured and never play rugby again. Not many people get to play for their country and I've always dreamt of doing it. The first lineout, the buzz of crowd, I want to try and take it all in although it will all probably go by pretty quick."
At the rate he has progressed, Youngs might achieve a lot more before he gets a chance to sit down and look back.
by Ben Coles
(@bencoles_)
Tom Youngs was speaking at the launch of O2 Inside Line, the weekly behind the scenes show from inside the England camp. For the latest episode and to receive email alerts for each show, visit www.O2InsideLine.com