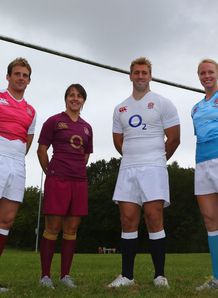 Related links
Teams
With the winds of change blustering through European Rugby, the RFU have launched their new-look kits in conjunction with supplier, Canterbury.
Many fans and commentators on the game have greeted this development with some surprise. Dumping Nike after 25 years? A NZ company with their badge on their chest? Unheard of to many!
However, RFU's Chief Commercial Officer, Sophie Goldschmidt took time out to explain to Planet Rugby the thinking behind the changes:
"Canterbury are the leading brand that are purely rugby focused," she revealed on Thursday.
"We believe this deal will take the England apparel to a whole new level from a performance perspective. The shirt is leading edge in its technology and performance and already the players are delighted with its features.
"We've spent a lot of time with Canterbury developing features that the modern players demand. We have the backing of Stuart Lancaster and his team, and already, the feedback from the squad has been very positive."
Goldschmidt continued by saying that recapturing the England of yesteryear was a mindset they had, with memories of the old Five Nations set to come flooding back for rugby fans.
"We've also taken this as an opportunity to bring back some of the tradition and heritage of playing for England and these and the values are so important to the game," she said.
"As an example, the purple tracksuit, a prized and totally exclusive item in previous years for capped players, has been re-introduced, and will remain totally exclusive to those who have the ultimate honour of representing their country. We've also gone back to the dark blue socks of English rugby.
"Stuart's philosophy is to have absolute pride in playing for England, and both the tracksuit and socks are important symbols of being an England Rugby International, and something players of yesteryear cherish. It's appropriate to re-introduce these in line with the values of tradition and integrity that we as a Union are promoting throughout the game.
"With the new backing of Pentland Group (who own Berghaus amongst many other leisure brands) we also believe that Canterbury are best placed to promote and distribute the new kit successfully. With regard to those that have criticised the hierarchy of the badging, we would point out that we are bound by IRB regulations on these issues and the badging follows the guidelines exactly."
So there you have it. Exciting times in rugby and we thank the RFU for taking time to explain so accurately their position. Change is inevitable in the game, and it is obvious from Ms. Goldschmidt's comments, the RFU have spent a lot of time researching this dilligently and properly, for the benefit of English rugby, from fans the players alike.
By James While