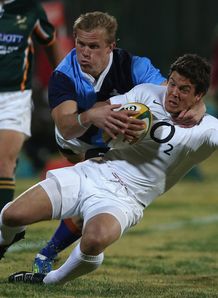 Related links
Teams
Also see
England and Leicester inside centre Anthony Allen admits that missing out on a starting spot against South Africa has made him hungrier in 2012/13.
The 26-year-old back, who was included in Stuart Lancaster's tourning squad earlier this year, did not feature in the first-team against the Boks.
But with the bonus of playing alongside Tigers number thirteen Manu Tuilagi week-in-week-out, Allen is eyeing a starting spot in the Test backline.
"Getting back into the England set-up and going on tour this summer was a great experience for me," revealed Allen, a member of EPS squad.
"But to be honest I was gutted that I did not get to play in any of the games, I really wanted to be involved but that's made me hungrier this season.
"When the autumn internationals come around I want to be starting for England again so it's up to me to continue to build my form gradually. Making the EPS squad was a big deal from that point of view.
"As a club we are not peaking at the moment, with the Heineken Cup returning and the business of the season, those are the times we want to be hitting the heights.
"But Manu and I are building our relationship and understanding playing regularly together and if that can continue then it can only be a good thing for our chances for club and county.
"You want to have combinations that you can rely on and that know each other well so we will keep working hard."