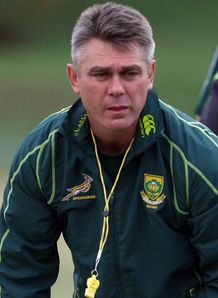 Related links
Teams
Springbok coach Heyneke Meyer wants his team to be impenetrable on defence when they face the Wallabies in Perth next week.
Meyer identified Australia's back-line as their most important attacking weapon and said the Springboks will have to give a solid defensive display if they want to beat them.
"Australia are a dangerous side when they get quick ball, especially their backs, who are unbelievable. If our defence is not 100 per cent, they will punish us," Meyer told Reuters.
The Wallabies have come in for heavy criticism since their defeats to the All Blacks in Sydney and Auckland but Meyer expects a tough assignment against Robbie Deans' troops.
"Australia are a very good team and we don't have a good record against them," he said.
"New Zealand are just a way ahead of everyone at the moment and nobody's giving us a chance in Perth next weekend.
"Australia have a very good pack which you cannot underestimate and it should be a very good contest at the breakdowns.
"We need to be very direct and if we kick aimlessly, they are very good at counter-attacking.
"They will definitely test us on defence because they run different lines and they have a more backline-orientated team.
"I'm very realistic and I know how tough it's going to be against the Wallabies."
Meyer is not expected to make too many changes to his starting XV or his game plan for the clash with the Wallabies after his side's disappointing 16-16 draw against Argentina in Mendoza last week.
"You change the game plan week-by-week depending on the opposition, but they're just small tweaks and you still play to your strengths," he revealed.
"This whole thing about game plans is totally romanticised and unrealistic.
"80 per cent of the game plan is the same for every team in the world and there's no such things as Plans B, C or D, and you can't get to Point E on the field if you still haven't covered Point A.
"The game plan is the same one that wins World Cups and it's a game plan that suits the Springboks.
"But the base is not even in place yet and the only time a team really learns is when they're playing away.
"I'm a guy who backs the players, will give them continuity and once we've played away from home then I'll look at the combinations and be ruthless."