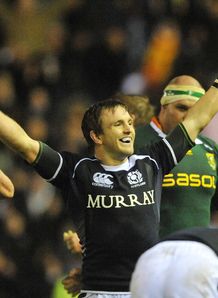 Colours: Blue and white
Honours: Five Nations Grand Slam (1925, 1984 & 1990), Five Nations winners (Five outright, six shared), Four Nations winners (nine outright, two shared)
Coach: Andy Robinson, a former England coach and assistant coach when they won the 2003 World Cup, took over as Scotland boss in 2009 from the axed Frank Hadden. In 13 matches as Scotland head coach since his appointment, Robinson - who is under contract until after the 2012 Six Nations - has overseen seven wins, one draw and five defeats. However, the last six matches have yielded five wins, the one 'blip' coming against New Zealand in the opening autumn international last November, a thumping 49-3 loss which serves as a constant reminder for Robinson. Wins over Australia, Ireland, Argentina (twice), South Africa and Samoa during Robinson's reign, though, have led many to believe Scotland could challenge for the Six Nations title this year. The 2011 Six Nations Championship will be Robinson's second as Scotland head coach and it includes a trip to the Rugby Football Union's headquarters, a venue where he won many honours while playing for Bath, for a match against the team he represented as both player and coach.
Captain: Rival scrum-halves Mike Blair and Chris Cusiter were appointed joint captains of the Scotland team initially by Robinson, but injuries to both scrum-halves over the past two years has forced the head coach to name a different skipper on more than one occasion. Rory Lawson, Blair or lock Alastair Kellock are the likely candidates to lead the side in 2011 and there is little to choose between the trio with all three having led the side admirably at various stages over the last 12 months.
Players to watch: Glasgow flanker John Barclay is having an outstanding season. His ferocious appetite for work was clear for all to see in his Herculean display against South Africa. A real poacher at the breakdown area.
Profile: Scotland has one of the great rugby traditions - hosts of the first international match, inventors of Sevens, dedicatedly amateur and sporting. But the expanding world of rugby power has not been kind to them.
There is not a big player-base and so players have been recruited from abroad, but despite lacking the massive resources of their larger neighbour to the south, Scotland have manfully carved out a unique place amongst the world rugby elite.
Indeed Scotland enjoys the distinction of being the first country to host, and win, the first ever-recognised rugby international when they beat England in Edinburgh way back in 1871.
They enjoyed periodic success in the early days vying with Wales in the first decade of the 20th century. However, their Triple Crown win in 1907 would be the last for 18 years as war and England intervened.
However, they won their first ever Five Nations Grand Slam in 1925 - the first year playing in their new Murrayfield home, which is the home of Scottish rugby to this day.
The period after World War Two was not a successful one for Scotland, although they shared the Five Nations title in 1964 with Wales. They had to wait to until 1984 for glory when a win over France secured the Grand Slam.
However, their greatest year in the modern era was 1990 when, captained by David Sole, their season came down to one game, a Grand Slam decider at Murrayfield against the old enemy, and hot favourites, England.
Scotland also won the last-ever Five Nations Championship in 1999 with some dashing displays of 15-man rugby but endured a torrid 2000 Six Nations, losing their first four straight games. But then at the last hurdle, they pulled off a magnificent win over unbeaten England at a rain-soaked Murrayfield.
Since then things have been pretty bleak.
Scottish rugby has been thrown into turmoil by a row over the running of the sport, and the retirement of a number of key players has meant that standards on the pitch have dropped markedly. In fact, Scotland drew a complete blank during the 2004 Six Nations competition, cobbling together a meagre 53 points during their five losses.
There has been an upturn in performance since then, even if results are still going against the Scots.
2009 saw Scotland record just one win in the Six Nations, but victory over Australia - ending a 27-year barren spell against the golds - will of course be savoured.
After three Six Nations losses in 2010, Scotland revived their tournament by drawing with England at Murrayfield before defeating Ireland in Dublin. Scotland went on to secure a historic first southern hemisphere Test series success, winning 2-0 in Argentina and ended off the year beating world champions South Africa.