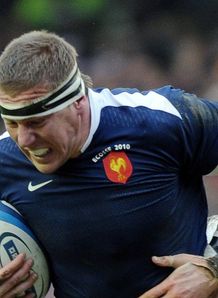 Colours: Blue, white and red
Nicknames: Les Bleus, Les Tricolores
Honours: Six Nations Grand Slam (2010, 2004, 2002), Five Nations Grand Slam (1968, 1977, 1981, 1987, 1997, 1998), Six Nations winners (Five times), Five Nations winners (12 outright, eight shared), World Cup runners-up (1987, 1999).
Coach: Former France loose forward Marc Lièvremont took over from Bernard Laporte after the 2007 World Cup. As assistants Lièvremont brought former Toulouse full-back and France team-mate Emile Ntamack (backs) and Didier Retière (forwards) onboard to reform the trio that lead France to the U21 World Cup title. As a departure from Laporte's strictly disciplined approach, Lièvremont promised to bring back some of the flair that had made French rugby famous, giving the players more leeway to take a more positive, pragmatic approach to decision making. After chopping and changing and handing over 50 different players caps in his first 18 months in charge, Lièvremont finally started to settle on a core group of players and claimed the 2010 Grand Slam. The consistency was short-lived however as more experimentation lead to a disastrous rest of the year. In reaction Lièvremont has promised to take a more hands-on approach to all aspects of team life.
Captain: Consistently France's top tackler, Thierry Dusautoir is widely recognised as one of the world's top flankers. When ageing second-row stalwart Lionel Nallet was forced to miss France's tour in New Zealand and Australia in 2009, Dusautoir took over as skipper with a view to leading Les Bleus to the 2011 World Cup. There have been questions in the press over his ability to motivate and communicate with his team-mates, but as far as the coaches are concerned he is the undisputed leader.
Player to watch: France have a wealth of talent in the back row, including Biarritz hardman Imanol Harinordoquy. Once referred to as "Harry-ordinary" by critics on the other side of the channel, the 30-year-old's game has developed to such an extent that he was nominated for the IRB's World Player of the Year Award in 2010. Apart from being a powerful ball carrier, his versatility makes him invaluable as he is able to play as both number eight and on the blindside flank while his height makes him a dangerous line-out option.
Profile: For many rugby purists, rugby 'a la français' is the only way to serve up the sport. At its best French rugby is romantic, elegant, stylish, creative and imaginative.
But sometimes they seem more keen to awe rather than score and when frustration sets in Les Bleus take on the look of a heated, poorly-disciplined tribe.
Still, France sits on a rugby gold mine. Only England has more senior rugby players and nobody has more players of sheer, magical ability and a such a depth of pure talent.
Les Tricolores are traditionally a team who are feared by opponents for their unpredictability and devastating attacking style. Even in these days of professional rugby, the French have endeavoured - with mixed success - to stay true to the spirit of their illustrious forebearers such as Jean-Pierre Rives, Serge Blanco and Pierre Villepreux, ensuring they are always exciting to watch.
When France are at their best they provide a devastating brand of attacking rugby which is nigh on impossible to defend against as the forwards drive deep into opposition territory before linking up with a back-line dripping with talent.
It would certainly appear to be an effective style of play as France have reached two World Cup Finals. In 1987 they lost to New Zealand and in 1999 were runners-up to Australia in Wales, having already provided the highlight of the tournament by beating a much-fancied New Zealand side in a famous semi-final at Twickenham, a feat which they repeated when they upset the tournament favourite All Blacks in the quarter-finals in 2007.
France fell to England in the semi-finals of RWC 2003, but they made amends in the subsequent Six Nations, claiming the Grand Slam in 2004 with five extremely polished performances. The squad of 2010 claimed another Grand Slam with a mixture of panache and stubbornness as their defence rather than their much-heralded attack was the key to success. But June 2010 was a disaster and November wasn't much better, ending with a record loss to Australia.
They have all the ingredients for a world-beating team including arguably the best scrum in Europe. 2011 looms as a decisive year.