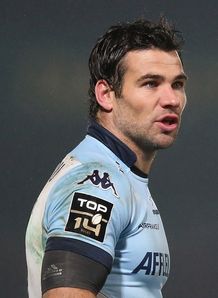 Related links
Teams
Bayonne have suspended scrum-half Mike Phillips and loose forward Dwayne Haare for allegedly showing up to a video analysis session under the influence of alcohol.
Wales international Phillips, Haare and his fellow New Zealander Stephen Brett will face Bayonne's board of directors on Tuesday to explain themselves.
L'Equipe reports that the trio arrived drunk at a video session on Friday, October 11, after a sleepless night following Bayonne's victory over Grenoble in the Amlin Challenge Cup.
Both Phillips and Haare were left out of the squad that travelled - and lost - to London Wasps on Thursday.
Phillips is likely to find himself in very hot water as this is not the first time he has been disciplined by the Basque club. Last year the 31-year-old British and Irish Lions was suspended for ten days by Bayonne for his drunks antics following a Top 14 fixture against Toulouse.
"I'm furious - outraged. This is unacceptable and not worthy of a professional player," said Bayonne chairman and principal sponsor Alain Afflelou.
"It shows a lack of respect for the club's partners and the public. This is not the first time and we are sick of it. It's shameful."
Bayonne are currently 13th in the Top 14 standings. They host co-leaders Montpellier on Saturday.