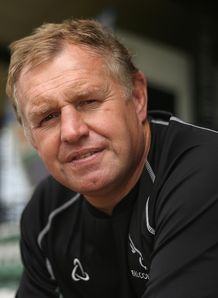 Related links
Teams
Newcastle boss Dean Richards has heaped praise upon the youngsters in his squad ahead of their opening Amlin Challenge Cup fixtures.
Richards has steered his charges to two wins from their opening five Premiership games, but feels the Falcons missed out on more league points.
He also warned of the hefty travelling burden placed on the newly-promoted side, who face visits to Bucharest, Brive and Calvisano in their Challenge Cup pool games.
"We're not taking Europe lightly," he told the ERC website.
"Bucharest is an unknown quantity for us and Brive will be a very difficult side. Travelling to Bucharest, Brive and Calvisano will clock up the miles on the card,
"I'd sooner have five wins. We weren't happy after the Bath result, Leicester away was a difficult game and then we were disappointed with the outcome against Gloucester when we felt we could have had a little bit more.
"I'm happy to a point, but not really! I could be in (Worcester boss) Dean Ryan's shoes and not have many points at all but, at the same time, there were more points to be had that we missed out on.
"I've been pleased more than anything within the contribution of our youngsters. They keep setting the trend within the club and it's the youngsters who are showing the way.
"We had 12 players who've come through the academy. If they hold their place or are called upon later on, then happy days, they've got this experience under their belts.
"You look at the young boys who finished the game against Worcester: I think George McGuigan gets better and better, then there's the likes of Scotty Wilson, Dom Barrow, Will Welch and Mark Wilson, so I'm delighted with what we're producing in the academy."
The Falcons have been hit with a length injury list, and several of his more experienced players - including ex-Scotland scrum-half Rory Lawson - were forced to retire thanks to ongoing problems.
Richards is looking forward to welcoming back more of his first-team individuals, and rotating his squad to give others some relief.
"We've had a lot of injuries over the last few weeks and we're just starting to get some boys back," he added.
"We've got eight who are injured and two who have had to retire.
"We've got a lot of guys coming back and the fact that we've afforded a lot of youngsters opportunities over the last few weeks will stand us in good stead going forward.
"A couple of those guys will come back in the Amlin Challenge Cup. Hopefully, they'll get a bit of game time, which will then give some of the other guys some respite."