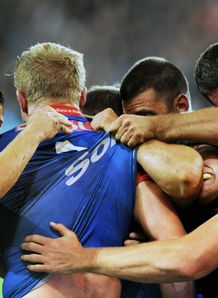 Grenoble return to the Amlin Challenge Cup after a seven-year absence and could well prove to be one of the surprise title contenders this season.
The club from the Alps have scaled new heights in the Top 14 this season and lie fifth thanks to their impressive form at Stade Lesdiguieres.
They start against I Cavalieri Prato and have the vast European experience of Shaun Sowerby, a Heineken Cup winner with Toulouse, at number eight with former Perpignan play-maker Nicolas Laharrague, with nine years of European rugby under his belt, to pull the strings.
It all adds up to a daunting task for the men from Tuscany who have lost their last 11 games since winning their first fixture in Europe - against Connacht in 2010.
Grenoble v I Cavalieri Prato
Stade Lesdiguieres
Grenoble:15 Joaquim Tuculet, 14 Matthieu Nicolas, 13 Rudolf Coetzee, 12 Aloisio Butonidualevu, 11 Florian Ninard, 10 Nicolas Laharrague, 9 Clement Darbo, 8 Flavein Nouhaillaguet, 7 Fabien Alexandre, 6 Florent Fourcade, 5 Andrew Farley, 4 Thibault Rey, 3 Karim Kouider, 2 Vincent Campo, 1 Romain David,
Replacements: 16 Anthony Hegarty, 17 Gregory Fabro, 18 Albertus Buckle, 19 Alexandre Pollard, 20 Ronald Cooke, 21 Viliame Waqaseduadua, 22 Jonathan Pelissie, 23 Florian Faure,
I Cavalieri Prato15 Dion Berryman, 14 Filippo Vezzosi, 13 Denis Majstorovic, 12 Ross Mccann, 11 Billy Ngwaini, 10 Riccardo Della Rossa, 9 Pino Patelli, 8 Marco Pelizzari, 7 Diego Delnevo, 6 Alberto Saccardo, 5 Rome Nifo Tautua, 4 Agustin Cavalieri, 3 Cosma Garfagnoli, 2 Lorenzo Giovanchelli, 1 Nicolas De Gregori
Replacements:16 Alessandro Borsi, 17 Andrea Lupetti, 18 Alessandro Boscolo, 19 Giacomo Bernini, 20 Marco Frati, 21 Simone ragusi, 22 Michele Sepe, 23 Andrea Pozzi
Kick-off: 18:30 (1730 GMT)
---
Bayonne v Mogliano
Stade Jean Dauger
Bayonne:15 Cedric Heymans, 14 Sam Gerber, 13 Thibault Lacroix, 12 Gabi Lovobalavu, 11 Marvin O'Connor, 10 Benjamin Boyet, 9 Guillaume Rouet, 8 Marc Baget, 7 Jean-Jo Marmouyet, 6 Guillaume Bernad, 5 Abdellatif Boutaty, 4 Robin Linde, 3 Nemiah Tialata, 2 Gregory Arganese, 1 Vitolio Manukula,
Replacements:16 Francois Da Ros, 17 Marc Legras, 18 Walter Desmaison, 19 Dewald Senekal, 20 Francois Carillo, 21 Mike Phillips, 22 Scott Spedding, 23 Matthieu Ugalde,
Mogliano:15 Vittorio Candiago, 14 Alessandro Onori, 13 Enrico Ceccato, 12 Ezio Galon, 11 Filippo Guarducci, 10 Edoardo Padovani, 9 Alberto Lucchese,8 Edoardo Candiago, 7 Marco Barbini, 6 Nicola Corbanese, 5 Enrico Pavanello, 4 Meyer Swanepoel, 3 Augusto Allori, 2 Agustin Costa Repetto , 1 Davide Meggetto.
Replacements: 16 Ivan Gianesini, 17 Laert Naka, 18 Andrea Ceccato, 19 Federico Maso, 20 Mathew Gilbert, 21 Antonio Giabardo, 22 Giovanni Benvenuti, 23 Marco Gazzola,
Kick-off: 19:00 (18:00 GMT)