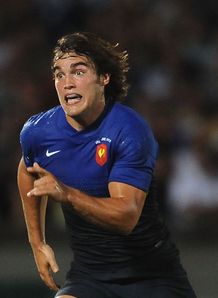 Toulon and Petrarca will kick off this year's Amlin Challenge Cup when the two sides meet at the Stade Pierre Rajon on Thursday.
Due to extreme weather conditions in the Toulon area which have made the Stade Félix-Mayol pitch unplayable, the match will now be played at Stade Pierre Rajon.
The hosts reached the quarter-final stage of the Heineken Cup last season, losing out to compatriots Perpignan and will be looking for a repeat of their last outing in the Amlin Challenge Cup where they reached the final in 2010.
In contrast, Italian side Petrarca have never reached the quarter-final stage in their eleven-year history in the competition.
Last year saw them record one victory at home to Cetransa El Salador and they will look to key men and former Italian internationals, Warren Spragg and Pietro Travagli for inspiration.
In team news, Toulon have opted to name a largely second-string line-up for Thursday's opener.
France winger Alexis Palisson will make his belated debut for the Toulon, though, following his involvement at the World Cup.
Former Saracens lock Kris Chesney also gets a run-out, while Joe El Abd and Georgia prop Davit Kubriashvili have been included among the replacements.
There are a number of familiar faces in the Petrarca line-up, with Eoghan Hickey, Tim Walsh and Spragg - all of whom have Premiership experience - as well as former Italy back-rower Scott Palmer set to start.
Toulon: 15. Benjamin Lapeyre, 14. Christian Loamanu, 13. Baptiste Bonnet, 12. Gabi Lovobalavu, 11. Alexis Palisson, 10. Julien Dumora, 9. Laurent Magnaval, 1. Romain Frou, 2. Mickael Ivaldi, 3. Levan Chilachava, 4. Kris Chesney, 5. Konstantine Mikautadze, 6. Pierrick Gunther, 7. Alafoti Faosiliva, 8. SEVA Rokobaro,
Replacements: 16. Jean-Charles Orioli, 17. Xavier Chiocci, 18. Davit Kubriashvili, 19. Joe El Abd, 20. Jeremy Sinzelle, 21. Fabien Cibray, 22. Matt Henjak, 23. Christophe Samson.
Petrarca: 15. Eoghan Hickey, 14. Alex Morsellino, 13. Juan Pablo Sanchez, 12. Marco Neethling, 11. Warren Spragg, 10. Tim Walsh, 9. Alessandro Chillon, 1. Alessandro Furia, 2. Agustin Costa Repetto , 3. Luca D'Agostino, 4. Agustin Cavalieri, 5. Mantvydas Tveraga, 6. Lance Persico, 7. Scott Palmer, 8. Zane Ansell,
Replacements: 16. Ornel Gega, 17. Flavio Damiano, 18. Piermaria Leso, 19. Edoardo Ghiraldini, 20. Steven Bortolussi, 21. Michele Sutto, 22. Pietro Travagli, 23. Fabio Faggiotto,
Date: Thursday, 10 November
Venue: Stade Pierre Rajon
Kick-off: 20:30 (19.30 GMT)