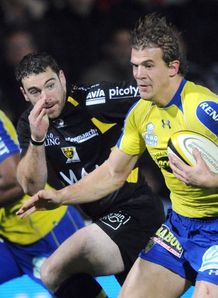 The weekend's European knock-out clashes kick off in La Rochelle on Thursday when fellow French club Clermont arrive for their Amlin Challenge Cup quarter-final at Stade Marcel Deflandre.
It's the first of four all-French plays off this weekend as Top 14 champions Clermont have been given a Challenge Cup lifeline after losing out in a very tough Heineken Cup group.
The two-time Challenge Cup winners (1999 and 2007) welcome back skipper Aurélien Rougerie from suspension. He moved from centre to on the wing to fill the void left by absent Fijian Napolioni Nalaga. France scrum-half Morgan Parra has however been rested.
La Rochelle were shock winners when the two side's met in the Top 14 this season, winning 22- 14 at home.
Both sides are in trouble in their domestic league. La Rochelle look set for relegation while Clermont are struggling to qualify for the play-offs.
"We will approach this game with the same mindset that we took into the victory over Biarritz," said Clermont coach Vern Cotter.
"We will try to raise our game once again because we are aware that every match is a play-off game from now on."
The teams:
Stade Rochelais Atlantique: 15 Greg Goosen, 14 Norman Ligairi, 13 Sefulu Gaugau, 12 Jerome Jacquet, 11 Florian Ninard, 10 Romain Lacoste, 9 Damien Neveu, 8 Quentin D'Aram de Valada. 7 Pierre Som, 6 Nicolas Djebaili, 5 Franck Jacob, 4 Robert Mohr [capt], 3 Stephane Clement, 2 Franco Pani, 1 Alexandre Bares
Replacements: 16 B Geledan, 17 P Toderasc, 18 J Garcia, 19 R Sazy, 20 T Soucaze, 21 B Dambielle, 22 M Dall'igna, 23 B Ferrou
ASM Clermont Auvergne: 15 Benoît Baby, 14 Aurélien Rougerie (c), 13 Tusiata Pisi, 12 Gonzalo Canale, 11 Kini Murimurivalu, 10 Brock James, 9 Kevin Senio, 8 Elvis Vermeulen, 7 Alexandre Audebert, 6 Julien Bardy, 5 Julien Pierre, 4 Loic Jacquet, 3 Martin Scelzo 2 Willie Wepener, 1 Lionel Faure.
Replacements:16 Ti'i Paulo, 17 Vincent Debaty, 18 Clément Ric, 19 Sione Lauaki, 20 Raphael Chaume, 21 Ludovic Radoslavjevic , 22 Lavea , 23 Anthony Floch
Date: Thursday, April 7
Venue: Stade Marcel Deflandre, La Rochelle
Kick-off: 20.45 (18.46 GMT)
Referee: George Clancy (Ireland)