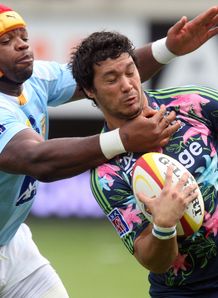 As expected, Amlin Challenge Cup favourites Stade Français had no trouble in thrashing Italian side Crociati on Thursday, winning 57-6 in Paris.
The Parisians outscored their visitors nine tries to none including two for Argentine international Martin Rodriguez as they cruised to a bonus-point victory at Stade Jean Bouin.
Scrum-half Noel Oelschig added six conversions.
Crociati tokk a surprise lead with a penalty from came from fly-half Marco Anversa in the opening minute but it was one-way traffic for the rest of the game.
The scorers:
For Stade Français:
Tries: Plisson, Briatte, Rodriguez 2, Southwell, Bousses, Phillips, Liebenberg, Tardy
Cons: Oelschig 6
For Crociati:
Pens: Anversa, Iannone
Stade Français: 15 Hugo Southwell, 14 Martin Rodriguez, 13 Guillaume Bousses, 12 Brian Liebenberg, 11 Ollie Phillips, 10 Jules Plisson, 9 Noel Oelschig, 8 Hugues Briatte, 7 Pierre Rabadan (capt), 6 Mauro Bergamasco, 5 Tom Palmer, 4 Arnaud Marchois, 3 Arthur Joly, 2 Laurent Sempere, 1 Rodrigo Roncero.
Replacements: 16 Rémi Bonfils, 17 Rabah Slimani, 18 Damien Weber, 19 Daniel Wright, 20 James Haskell, 21 Anthony Burban, 22 Benjamin Tardy, 23 Julien Arias.
Crociati Rugby: 15 Ruggero Trevisan, 14 Michel Tobia, 13 Tommaso Iannone, 12 Sebastian Damiani (capt), 11 Troy Woodman, 10 Marco Anversa, 9 James Ireland, 8 Uili Kolo'ofai, 7 Filippo Ferrarini, 6 Diego Delnevo, 5 Matteo Minari, 4 Dylan Sigg, 3 Marco Coletti, 2 Davide Giazzon, 1 Andrea Lovotti.
Replacements: 16 Mattia Saccomani, 17 Iacopo Scarparo, 18 Francesco Pepoli, 19 Alessandro Maestri, 20 Marco Frati, 21 Marco Ricci, 22 Emanuele Passera, 23 Guiseppe Boggiani.
Venue: Stade Jean Bouin
Referee: Dudley Phillips
Assistant referees: Paul Haycock, Kevin Beggs
Television match official: Tony Redmond