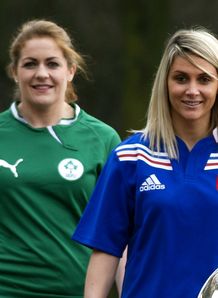 As we enter Round Four of the Women's Six Nations tournament, the title is still technically up for grabs. With so much at stake this weekend will the teams play a more conservative style of rugby to ensure victory? Or will they throw caution to the wind and play some expansive, exciting running rugby?
Amanda Love examines the weekend ahead.
Fixtures:
Friday 8 March:
Ireland v France, Ashbourne RFC - 19:30
Saturday 9 March:
England v Italy, Esher Rugby Club - 13:00
Sunday 10 March:
Scotland v Wales, Scotstoun Stadium, Glasgow - 14:00
To kick off the weekend we have a top-of-the-table clash between Ireland and France in Ashbourne. Ireland will be looking to continue their undefeated streak but will face a stern task against France who will be in high spirits after defeating England 30-20 in Twickenham a fortnight ago.
Ireland will need to outmuscle the French forward pack with go-forward ball to set the platform for the likes of Niamh Briggs and Alison Miller to cross the line. With the focus on these two players in particular, look for some deception from the Irish backs with several dummy runners and wrap around plays to confuse the defensive line.
France however have a mobile pack and some potent runners in their backs, in particular fly-half Jessy Tremouliere to direct the traffic and unleash her backline. Look for the French forwards to really challenge Ireland at set piece time. There will be ferocity at the break down as this will determine which side has ascendancy throughout the test.
This match will be played relatively tight due to the circumstances of the results and both coaches will need to use their bench players wisely and will need to make an impact immediately. The saying "You have to earn the right to play it wide" will be most fitting to this contest and should be the game of the weekend.
England come up against a passionate Italian side that were beaten narrowly by the Welsh. Italy now have to win the next two Test matches and hope Wales lose one to automatically qualify for the Rugby World Cup in 2014.
The Italians are not a flashy side, but they know how to work as a team to get the job done. Veronica Shiavon will be instrumental to Italy's success and she will be put under an enormous amount of pressure by England who are carrying their own burden of losing two Test matches in a row in this tournament for the very first time.
It is well documented that several of England's top XV players are in preparation for the Sevens Rugby World Cup in Moscow this coming June. Head coach Gary Street will need to put his most experienced campaigners available in his First XV to avoid a possible third loss.
England should come out firing with all guns blazing after losing at Twickenham. It will be interesting to see how the team responds this weekend and if this young side can rise to the challenge. If so, then England with their depth and pool of players available are not only a side to watch out for in the Sevens this year but also in next year's Rugby World Cup.
The final match of the weekend sees Wales against Scotland. Wales are easy favourites against a Scotland side who have only managed to score one penalty throughout the entirety of this tournament.
Head coach Karen Findlay may want to consider her starting XV as she has used the majority of the same playing group the last couple of weeks.
The irony with the Scottish side, is that they are contesting and pushing sides (with the exception of course to the 76-0 drubbing by England) but have not been able to convert pressure into points and have let the flood gates open after sixty minutes of play. If Scotland can improve their defensive structures, minimize their error/turnover rate and play for the full 80 minutes this could be an interesting match-up.
Wales having learned in Round One not to underestimate any side and will be cautious of Scotland. Ultimately Wales have more to lose here if they can't win in Aberavon.
As mentioned earlier if Wales can leap frog Italy in the standings, they will automatically qualify for the Rugby World Cup.
However this and the final round of the Six Nations are now critical to their Rugby World Cup campaigns.
In their last outing Wales's set piece seems to have improved dramatically as they scored two almost identical tries against Italy. It's great to see their forwards take more ownership of the game and lead the way from the front. If they continue this trend we should see some great attacking rugby.
How the leadership board will stand at the end of this round is anyone's guess. But you now have a great reason to tune into these matches and watch some impressive displays of rugby.
By Amanda Love