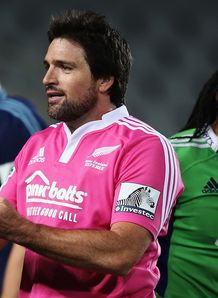 There's another bumper programme of fixtures scheduled for this weekend in both the southern and northern hemispheres.
In Super Rugby, Steve Walsh takes charge of Friday's blockbuster ANZAC Day clash in Canberra between the Brumbies and the Chiefs, while Craig Joubert will handle the Bloemfontein derby clash where the Cheetahs go head-to-head with the Stormers.
In the PRO12, the weekend's only game is a big one as Glasgow Warriors welcome Edinburgh for the second leg of their rearranged 1872 Challenge Cup grudge match - Frenchman Mathieu Raynal has the whistle at Scotstoun.
Heineken Cup semi-finals
Saracens vs Clermont Auvergne at Twickenham
Referee: Nigel Owens (Wales)
Assistant referees: Alain Rolland (Ireland), Leighton Hodges (Wales)
Television match official: Gareth Simmonds (Wales)
Toulon vs Munster at Stade Vélodrome, Marseilles
Referee: Wayne Barnes (England)
Assistant referees: JP Doyle (England), Luke Pearce (England)
Television match official: Graham Hughes (England)
Challenge Cup semi-finals
Northampton Saints vs Harlequins at Franklin's Gardens
Referee: George Clancy (Ireland)
Assistant referees: John Lacey (Ireland), Marius Mitrea (Italy)
Television match official: Jim Yuille (Scotland)
London Wasps vs Bath at Adams Park
Referee: Romain Poite (France)
Assistant referees: Jérôme Garcès (France), Pascal Gauzère (France)
Television match official: Eric Gauzins (France)
Super Rugby Round 11
Blues vs Waratahs at Eden Park
Referee: Chris Pollock (New Zealand)
Assistant referees: Nick Briant (New Zealand), Mike Lash (New Zealand)
Television match official: Glenn Newman (New Zealand)
Brumbies vs Chiefs at GIO Stadium Canberra
Referee: Steve Walsh (Australia)
Assistant referees: Rohan Hoffmann (Australia) , Andrew Lees (Australia)
Television match official: George Ayoub (Australia)
Sharks vs Highlanders at KINGS Park
Referee: Jaco Peyper (South Africa)
Assistant referees: Stuart Berry (South Africa), Quinton Immelman (South Africa)
Television match official: Shaun Veldsman (South Africa)
Hurricanes vs Reds at Westpac Stadium
Referee: Mike Fraser (New Zealand)
Assistant referees: Garratt Williamson (New Zealand), Shane McDermott (New Zealand)
Television match official: Vinny Munro (New Zealand)
Force vs Bulls at nib Stadium
Referee: Angus Gardner (Australia)
Assistant referees: James Leckie (Australia) , Matt O'Brien (Australia)
Television match official: Peter Marshall (Australia)
Cheetahs vs Stormers at Free State Stadium
Referee: Craig Joubert (South Africa)
Assistant referees: Marius van der Westhuizen (South Africa), Francois de Bruin (South Africa)
Television match official: Johan Greeff (South Africa)
PRO12
Glasgow Warriors vs Edinburgh at Scotstoun Stadium
Referee: Mathieu Raynal (France)
Assistant referees: Neil Paterson (Scotland), Graeme Marshall (Scotland)
Television match official: Jim Yuille (Scotland)
Assessor: Gordon McMurray (Scotland)