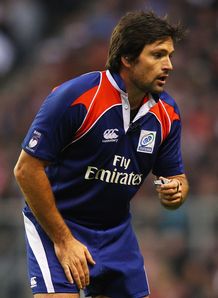 Test rugby takes a break this weekend but there's plenty of action in both the northern and southern hemisphere to follow.
But despite no Test matches, several top referees will be in action. In the south, Steve Walsh will take charge of the Super Rugby match between the Stormers and Hurricanes in Cape Town.
And up north, Nigel Owens travels to Dublin to referee the PRO12 clash between Leinster and Glasgow.
Super Rugby, Round Three
Blues vs Crusaders at Eden Park
Referee: Mike Fraser (New Zealand)
Assistant referees: Garratt Williamson (New Zealand), Shane McDermott (New Zealand)
Television match official: Ben Skeen (New Zealand)
Rebels vs Cheetahs at AAMI Park, Melbourne
Referee: Angus Gardner (Australia)
Assistant referees: Matt O'Brien (Australia), Michael Hogan (Australia)
Television match official: Steve Leszczynski (Australia)
Stormers vs Hurricanes at Newlands
Referee: Steve Walsh (Australia)
Assistant referees: Andrew Lees (Australia), Marc van Zyl (South Africa)
Television match official: Deon van Blommenstein (South Africa)
Chiefs vs Highlanders at Waikato Stadium
Referee: Rohan Hoffmann (Australia)
Assistant referees: Garratt Williamson, (New Zealand) Brendon Pickerill (New Zealand)
Television match official: Vinny Munro (New Zealand)
Waratahs vs Reds at Allianz Stadium
Referee: Glen Jackson (New Zealand)
Assistant referees: James Leckie (Australia), Will Houston (Australia)
Television match official: Peter Marshall (Australia)
Force vs Brumbies at nib Stadium
Referee: Nick Briant (New Zealand)
Assistant referees: Ian Smith (Australia), Ed Martin (Australia)
Television match official: George Ayoub (Australia)
Bulls vs Lions at Loftus Versfeld
Referee: Chris Pollock (New Zealand)
Assistant referees: Marius van der Westhuizen (South Africa), Sieg van Staden (South Africa)
Television match official: Johan Greeff (South Africa)
PRO 12
Zebre vs Cardiff Blues at XXV Aprile, Parma
Referee: Gary Conway (Ireland)
Assistant referees: Marius Mitrea (Italy), Claudio Blessano (Italy)
Television match official: Carlo Damasco (Italy)
Timekeeper: Giannino Cappellozza (Italy)
Assessor: Mauro Dordolo (Italy)
Connacht v Benetton Treviso at The Sportsground
Referee: Leighton Hodges (Wales)
Assistant referees: Leo Colgan (Ireland), Will O'Connor (Ireland)
Assessor: Bertie Smith (Ireland)
Leinster vs Glasgow Warriors at Royal Dublin Society
Referee: Nigel Owens (Wales)
Assistant referees: Stuart Gaffkin (Ireland), R Kerr (Ireland)
Television match official: Alan Rogan (Ireland)
Assessor: Michael Carroll (Ireland)
Ulster vs Dragons at Ravenhill
Referee: Lloyd Linton (Scotland)
Assistant referees: Nigel Correll (Ireland), Johan Carvill (Ireland)
Television match official: Peter Ferguson (Ireland)
Assessor: Jack Young (Ireland)
Edinburgh vs Ospreys
Referee: Peter Fitzgibbon (Ireland)
Assistant referees: James Matthew (Scotland), Stephen Ward (Scotland)
Television match official: Iain Ramage (Scotland)
Assessor: Fergus Neil (Scotland)
Scarlets vs Munster
Referee: Dudley Phillips (Ireland)
Premiership
Bath vs Saracens
Referee: Luke Pearce
Assistant referees: Paul Burton, Paul Dix
Television match official: David Grashoff
Timekeeper: Laurie Bryant
Exeter Chiefs vs London Irish
Referee: Matthew Carley
Assistant referees: Roger Baileff, Ashley Rowden
Television match official: Geoffrey Warren
Timekeeper: Matthew Peters
Harlequins vs Worcester Warriors
Referee: Wayne Barnes
Assistant referees: Roy Maybank, Peter Huckle
Television match official: Sean Davey
Timekeeper: Robert Ockenden
Assessor: Nigel Yates
London Wasps vs Sale Sharks
Referee: Dean Richards
Assistant referees: JP Doyle, Stuart Terheege
Television match official: Keith Lewis
Timekeeper: Roy Marfleet
Assessor: Gary Welsh/Ashley Reay
Northampton Saints vs Gloucester
Referee: Tim Wigglesworth
Assistant referees: Nigel Carrick, Simon Mcconnell
Television match official: Rowan Kitt
Timekeeper: Tony Turner
Newcastle Falcons vs Leicester Tigers
Referee: Gregory Garner
Assistant referees: Andy Watson, Gareth Copsey
Television match official: Graham Hughes
Timekeeper: David Hudson
Assessor: Brian Campsall
Top 14, Round 21
Montpellier vs Stade Français at Stade Yves Du Manoir
Referee: Romain Poite
Assistant referees: Sébastien Clouté, Christophe Malterre
Television match official: Jean-Pierre Pellaprat
Bordeaux-Bègles at Jacques Chaban-Delmas
Referee: Cédric Marchat
Assistant referees: Laurent Cardona, Pascal Ubeda
Television match official: Vincent Azoulay
Brive vs Grenoble at Stade Amédée Domenech
Referee: Pascal Gauzère
Assistant referees: Sébastien Minery, Thomas Déjean
Television match official: Eric Gauzins
Racing Métro vs Castres at Stade Yves Du Manoir
Referee: Jérôme Garcès
Assistant referees: Mourad Zitouni, Laurent Sclafer
Television match official: Laurent Valin
Toulon vs Oyonnax at Stade Mayol
Referee: Alexandre Ruiz
Assistant referees: Christophe Mallet, Sébastien Hebert
Television match official: Gilles Cogne
Toulouse vs Perpignan at Stade Ernest Wallon
Referee: Salem Attalah
Assistant referees: Mathieu Noirot, Thierry Le Grand
Television match official: Daniel Gillet
Biarritz vs Bayonne at Parc des Sports d'Aguilera
Referee: Mathieu Raynal
Assistant referees: Christophe Berdos, Bruno Gabaldon
Television match official: Gérard Borreani