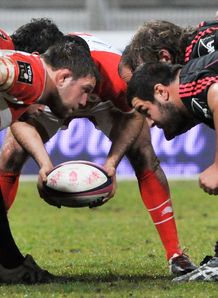 Related links
Also see
Planet Rugby understands the IRB is to ditch the current "yes, nine" scrum call in favour of a non-verbal, pre-agreed instruction.
This change will take place with immediate effect, and is being introduced at all levels of the game worldwide.
Referees will no longer give a verbal instruction of "yes, nine", and instead will issue a non-verbal instruction to the scrum-half when he/she considers the scrum to be square and stable.
The non-verbal instruction must be agreed by the referee and both scrum-halves prior to the start of the game and could be in the form of a tap on the back while the referee is on the side of the put in, or an agreed signal (nod of the head or hand signal) by the referee while he/she is on the non putting in side of the scrum.
Referees must continue to insist on a stable and square scrum prior to instructing the scrum-half to put the ball into the scrum. Scrum-halves who put the ball in prior to the non-verbal command by the referee to do so will still be liable to being penalised.