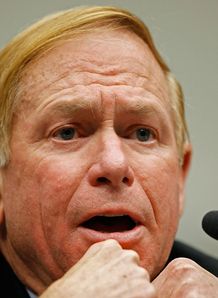 Related links
Teams
World-leading concussion experts are set to present at the forthcoming USA Rugby Sports Medicine Symposium in Las Vegas this month.
The Symposium is set to take place alongside the Las Vegas Sevens tournament on 23-24th January.
It has been announced that Dr Robert Cantu, who has been at the forefront of research from Boston University into the long-term neurological effects of repeated head trauma in athletes, will take to the podium with his colleague Dr Anne McKee.
Cantu spoke to Planet Rugby in November regarding a condition, known as Chronic Traumatic Encephalopathy (CTE); a form of early onset dementia now thought to be affecting rugby players.
The meeting will make the controversial topic of concussion its priority, according to long-standing USA Rugby Medical Director Michael Keating.
"USA Rugby is leading the way in the education, prevention, treatment and management of concussions," said Keating.
"In addition to the 'Brains Over Brawn' educational initiative, USA Rugby's fifth annual Sports Medicine Symposium will have an unprecedented panel presenting on the subject.
"With a priority of keeping rugby and all sports safer, we have secured the world's experts in concussion and sports medicine to present. Our conference has always kicked off with a focus on concussion on the first day and we continue to make this a priority."
---
Concussion; not just in rugby, but across all sports carrying a risk of head injury, is a very serious issue, and one that we at Planet Rugby have given extensive coverage over the past six months. Below are links to several articles chronicling the path the game has taken:
Concussion expert slams rugby bosses
NFL concussion precedent an omen