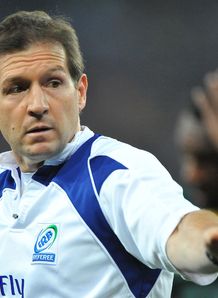 It's a big weekend in the northern hemisphere as European club action returns in the form of Heineken Cup and Amlin Challenge Cup competitions.
In one of the big games of the Heineken Cup round, Ireland's Alain Rolland takes charge of Exeter Chiefs' sell-out Pool Two clash against champions Toulon at Sandy Park.
In the Amlin Challenge Cup, England's Matt Carley will make his European Rugby Cup debut.
It's also the third round of the HSBC Sevens World Series, this time in Port Elizabeth. After a review of their performances in Dubai, the referees arrived in South Africa on Monday afternoon to journey to Port Elizabeth. Amongst them was Federico Anselmi of Argentina who refereed the Final in Dubai.
Heineken Cup, Round Three
Northampton Saints vs Leinster
Referee: Nigel Owens (Wales)
Assistant referees: Sean Brickell (Wales), Jonathan Mason (Wales)
Television match official: Tim Hayes (Wales)
Cardiff Blues vs Glasgow Warriors
Referee: George Clancy (Ireland)
Assistant referees: Leo Colgan (Ireland), Eanna O'Dowd (Ireland)
Television match official: Simon McDowell (Ireland)
Castres vs Ospreys
Referee: Peter Fitzgibbon (Ireland)
Assistant referees: David Wilkinson (Ireland), Olly Hodges (Ireland)
Television match official: Jude Quinn (Ireland)
Exeter Chiefs vs Toulon
Referee: Alain Rolland (Ireland)
Assistant referees: Eddie Hogan-O'Connell (Ireland), Nigel Correll (Ireland)
Television match official: Kevin Beggs (Ireland)
Zebre vs Saracens
Referee: Pascal Gauzère (France)
Assistant referees: Patrick Pechambert (France), Jean-Luc Rebollal (France)
Television match official: Daniel Irazoqui (France)
Clermont Auvergne vs Scarlets
Referee: JP Doyle (England)
Assistant referees: Martin Fox (England), Kevin Stewart (England)
Racing Métro vs Harlequins Quins
Referee: Leighton Hodges (Wales)
Assistant referees: Gwyn Morris (Wales), Simon Rees (Wales)
Television match official: Gareth Simmonds (Wales)
Ulster vs Benetton Treviso
Referee: Luke Pearce (England)
Assistant referees: David Rose (England), Paul Dix (England)
Television match official: Geoff Warren (England)
Munster vs Perpignan
Referee: Greg Garner (England)
Assistant referees: Tim Wigglesworth (England), Stuart Terheege (England)
Television match official: Sean Davey (England)
Edinburgh vs Gloucester Rugby Gloucester
Referee: Jérôme Garcès (France)
Assistant referees: Sébastien Clouté (France), Jérôme Lamirand (France)
Television match official: Philippe Bonhoure (France)
Leicester Tigers vs Montpellier
Referee: John Lacey (Ireland)
Assistant referees: Mark Patton (Ireland), John Carvill (Ireland)
Television match official: Marshall Kilgore (Ireland)
Toulouse vs Connacht
Referee: Marius Mitrea (Italy)
Assistant referees: Stefano Pennè (Italy), Elia Rizzo (Italy)
Television match official: Alan Falzone (Italy)
Amlin Challenge Cup, Round Three
Worcester Warriors vs Biarritz
Referee: Dudley Phillips (Ireland)
Assistant referees: Kieran Barry (Ireland), Michael Black (Ireland)
Television match official: Sean Flannery (Ireland)
Oyonnax vs Sale Sharks
Referee: Giuseppe Vivarini (Italy)
Newport Gwent Dragons vs Bordeaux-Bègles
Referee: Andrew McMenemy (Scotland)
Bayonne vs Viadana
Referee: Vlad Iordescu (Romania)
Mogliano vs Bath
Referee: Laurent Cardona (France)
I Cavalieri Prato vs Lusitanos XV
Referee: Matthew Carley (England)
Bucharest Wolves vs Brive
Referee: Neil Hennessy (Wales)
Grenoble vs London Wasps
Referee: Ian Davies (Wales)
Newcastle Falcons vs Cammi Calvisano
Referee: Cédric Marchat (France)
London Irish vs Stade Français
Referee: Neil Paterson (Scotland)
HSBC Sevens World Series, Round Three
Referee: Federico Anselmi (Argentina), James Bolabiu (Fiji), David Keane (Ireland),James McPhail (New Zealand), Anthony Moyes (Australia), Matt O'Brien (Australia), Rasta Rasivhenge (South Africa), Rhys Thomas (Wales), Marius van der Westhuizen (South Africa)