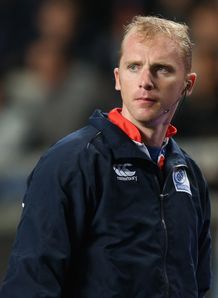 The third week of the Test window continues and there are several internationals scheduled throughout Europe.
The big clash is probably in Paris, where Wayne Barnes takes charge when France host South Africa, though there will be much interest in what happens at Murrayfield and at the Aviva Stadium.
There's also full rounds of matches in the PRO12, Premiership and Top 14 competitions.
Internationals
Wales vs Tonga at Millennium Stadium, Cardiff
Referee: Mike Fraser (New Zealand)
Assistant referees: Craig Joubert (South Africa), Luke Pearce (England)
Television match official: Carlo Damasco (Italy)
Assessor: Clayton Thomas (Wales)
France vs South Africa at Stade de France, Paris
Referee: Wayne Barnes (England)
Assistant referees: Glen Jackson (New Zealand), Leighton Hodges (Wales)
Television match official: Iain Ramage (Scotland)
Assessor: Lyndon Bray (SANZAR)
Italy vs Argentina at Stadio Olimpico, Rome
Referee: Chris Pollock (New Zealand)
Assistant referees: George Clancy (Ireland), JP Doyle (England)
Television match official: Gareth Simmonds (Wales)
Assessor: Donal Courtney (European Rugby Cup)
Scotland vs Australia at Murrayfield, Edinburgh
Referee: Jaco Peyper (South Africa)
Assistant referees: Pascal Gauzère (France), Francisco Pastrana (Argentina)
Television match official: Geoff Warren (England) Lyndon Bray (SANZAR)
Ireland vs New Zealand at Aviva Stadium, Dublin
Referee: Nigel Owens (Wales)
Assistant referees: Jérôme Garcès (France), Greg Garner (England)
Television match official: Graham Hughes (England)
Assessor: Donal Courtney (European Rugby Cup)
Georgia vs Samoa at Locomotive Stadium, Tbilisi
Referee: Romain Poite (France)
Assistant referees: Andrew Mcmenemy (Scotland), Vlad Iordachescu (Romania)
Television match official: Eric Gauzins (France)
Assessor: Donal Courtney (European Rugby Cup)
Romania vs Fiji at Stadionul National Arcul de Triumf, Bucharest
Referee: Dudley Phillips (Ireland)
Assistant referees: tba (Ireland)
Television match official: Simon McDowell (Ireland)
Assessor: Patrick Robin (France)
Spain vs Japan at Madrid
Referee: Joaquin Montes (Uruguay)
Assistant referees: tba (France)
Russia vs USA at Allianz Park, North London
Referee: Marius Mitrea (Italy)
Assistant referees: tba (England)
Portugal vs Canada at National Stadium, Lisbon
Referee: Ian Davies (Wales)
Assistant referees: tba (Wales)
Rabodirect PRO12
Ulster vs Edinburgh at Ravenhill Stadium
Referee: Neil Hennessy (Wales)
Assistant referees: Gary Conway (Ireland), Kevin Beggs (Ireland)
Television match official: Peter Ferguson (Ireland)
Assessor: Jack Young (Ireland)
Glasgow Warriors vs Newport Gwent Dragons at Scotstoun Stadium
Referee: Peter Fitzgibbon (Ireland)
Cardiff Blues vs Munster at Cardiff Arms Park
Referee: David Wilkinson (Ireland)
Assistant referees: Greg Morgan (Wales), Justin Williams (Wales)
Television match official: Paul Adams (Wales)
Ospreys vs Zebre at Liberty Stadium
Referee: Leo Colgan (Ireland)
Assistant referees: Martyn Lewis (Wales), Craig Evans (Wales)
Connacht vs Scarlets at The Sportsground
Referee: Matteo Liperini (Italy)
Assistant referees: Paul Haycock (Ireland), Olly Hodges (Ireland)
Benetton Treviso vs Leinster at Stadio Monigo
Referee: tba (Scotland)
Assistant referees: Elia Rizzo (Italy), Giorgio Sgardiolo (Italy)
Television match official: Mauro Dordolo (Italy)
Aviva Premiership
Sale Sharks vs Worcester Warriors
Referee: Andrew Small
Assistant referees: Robin Goodliffe, Stuart Terheege
Television match official: David Grashoff
Assessor: Steve Lee
Exeter Chiefs vs Saracens
Referee: tba
Assistant referees: Roger Baileff, Andrew Pearce
Timekeeper: Eric Bullion
Television match official: David Sainsbury
Harlequins vs Gloucester
Referee: Matthew Carley
Assistant referees: Andy Watson, Gareth Copsey
Timekeeper: Laurie Bryant
Television match official: Roy Maybank
Assessor: Brian Campsall
Leicester Tigers vs London Irish
Referee: Martin Fox
Assistant referees: Peter Huckle, Nigel Carrick
Timekeeper: David Hudson
Television match official: Trevor Fisher
Northampton Saints vs Newcastle Falcons
Referee: Dean Richards
Assistant referees: Kevin Stewart, Ashley Rowden
Timekeeper: Brian Abrahams
Television match official: Rowan Kitt
Assessor: Gary Welsh
London Wasps vs Bath
Referee: Luke Pearce
Assistant referees: Paul Burton, Paul Dix
Timekeeper: John Burtenshaw
Television match official: Sean Davey
Assessor: Tony Spreadbury
Top 14, Round 12
Toulon vs Perpignan at Stade Mayol
Referee: Sébastien Clouté
Assistant referees: Laurent Cardona, Laurent Breil
Television match official: Eric Gauzins
Brive vs Biarritz at Stade Amédée Domenech
Referee: Patrick Pechambert
Assistant referees: Christophe Dutreuilh, Christophe Malterre
Television match official: Jean-Claude Levrier
Bayonne vs Grenoble at Stade Jean Dauger
Referee: Cédric Marchat
Assistant referees: Nicholas Datas, Laurent Sclafer
Television match official: Bernard Dal Maso
Bordeaux-Bègles vs Stade Français at Jacques Chaban-Delmas
Referee: Salem Attalah
Assistant referees: Stéphane Boyer, Jean-Luc Rebollal
Television match official: Eric Gonthier
Montpellier vs Castres at Stade Yves Du Manoir
Referee: Christophe Berdos
Assistant referees: Jérôme Lamirand, Patrick Beuriot
Television match official: Jean-Marie Piraveau
Toulouse vs Oyonnax at Stade Ernest Wallon
Referee: Sébastien Minery
Assistant referees: Laurent Millotte, Pascal Ubeda
Television match official: Gérard Borreani
Clermont Auvergne vs Racing-Métro Parc Des Sports Marcel Michelin
Referee: Cyril Lafon
Assistant referees: Mathieu Noirot, Thierry Le Grand
Television match official: Bruno Bessot