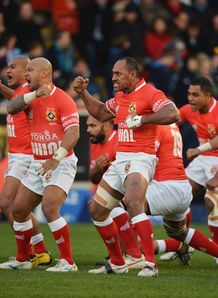 Related links
Teams
Tonga rugby coach Mana Otai has claimed that Pacific Islanders are the victims of unfair stereotypes by international referees.
Otai's comments came after Tonga's 36-27 Pacific Nations Cup loss to Canada in Kingston, Ontario over the weekend in a game that was marred by a series of punch ups and saw the Islanders shown a red and two yellow cards for high tackles and shoulder charges.
One of the yellow-card tackles resulted in Canadian winger Matt Evans being carried off on a stretcher and other required full-back James Pritchard to receive treatment on the field.
"I couldn't really see why (the yellow cards were issued)," Otai told Canadian Press after reviewing the videos of the incidents.
"It's almost like, these days you know, when a black man is tackling harder than the other, it seems to be the way."
Asked if the Pacific Island teams were being singled out, Otai answered: "Absolutely. It's a perception a lot of times.
"And I think some of the foreigners that are involved in our team now are starting to see that.
"It's just hard to battle or fight that stereotype, I guess. But I'm not taking away the fact that at times we do, I guess, make mistakes in terms of tackling - if I'm talking in general.
"But in today's game, I couldn't justify the two yellow cards."
Otai said that Irish referee "JP" Doyle was incorrect in showing prop Eddie Aholelei a red card after flooring Canadian flanker Jebb Sinclair with a punch. Canadian fly-half Nathan Hirayama and Tongan winger Fetu'u Vainikolo were lucky not to see red after trading blows in the incident.
Otai said Hirayama started the incident.
"It's one of those thing where we've just got to behave ourselves and let the referee do his job," said Otai, who is sure to face the music from the IRB disciplinary panel.