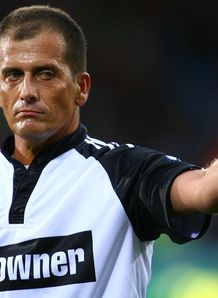 Referee Marius Jonker has announced his retirement from international matches although he will continue to referee in South Africa's domestic competitions.
44-year-old Jonker announced his decision following discussions with South African Rugby Union Referees general manager Andre Watson.
"I have had a highly enjoyable international career, refereeing at Test and Super Rugby level but the time has come to move on," said Jonker.
"I still love refereeing and will continue to take charge at Currie Cup and Vodacom Cup level - as well as in SARU's other competitions."
Jonker made his debut at first class level in 2003 and quickly rose to take charge of his first Test match in 2005. In all, he refereed in 24 Test matches - the last of them in 2011.
"Marius has been one of the world's top referees for a number of years," said Watson.
"Along with Jonathan Kaplan, Mark Lawrence and Craig Joubert he was part of a crop of outstanding South African officials who raised the bar for officiating everywhere.
"He has served SARU, SANZAR and the IRB for a long period with distinction. I believe he did not receive the acknowledgement and credit he deserved.
"But what's important is that his experience is being retained by SARU and can be passed on to the young guns in the next season or two."