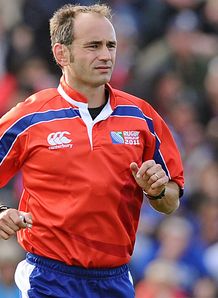 The match officials for this week have been announced with Romain Poite officiating in the Test between England and Australia at Twickenham.
There's another full round of internationals but some of the nations will also be in action in mid-week tour matches.
One PRO12 match is also taking place, between Zebre and Ulster, as well as the second round of the LV= Cup.
Internationals:
Wales vs Samoa at Millennium Stadium, Cardiff
Referee: Pascal Gauzere (France)
Assistant referees: Wayne Barnes (England), Jérôme Garces (France)
Television match official: Giulio De Santis (Italy)
England vs Australia at Twickenham, London
Referee: Romain Poite (France)
Assistant referees: Nigel Owens (Wales), Mathieu Raynal (France)
Television match official: Jim Yuille (Scotland)
France vs Argentina at Grand Stade Lille Metropole, Lille
Referee: Steve Walsh (Australia)
Assistant referees: Jaco Peyper (South Africa), David Changleng (Scotland)
Television match official: Carlo Damasco (Italy)
Italy vs New Zealand at Stadio Olimpico, Rome
Referee: Alain Rolland (Ireland)
Assistant referees: Craig Joubert (South Africa), Peter Allan (Scotland)
Television match official: Nigel Whitehouse (Wales)
Scotland vs South Africa at Murrayfield, Edinburgh
Referee: George Clancy (Ireland)
Assistant referees: John Lacey (Ireland), Christophe Berdos (France)
Television match official: Eric Gauzins (France)
Canada vs Russia at Parc Eirias, Colwyn Bay, Wales
Referee: Lourens van der Merwe (South Africa)
Assistant referees: Tim Hayes (Wales), Wayne Davies (Wales)
Tonga vs USA at Parc Eirias, Colwyn Bay, Wales
Referee: Francisco Pastrana (Argentina)
Assistant referees: Tim Hayes (Wales), Wayne Davies (Wales)
Georgia vs Japan in Tbilisi, Georgia
Referee: Glen Jackson (New Zealand)
Assistant referees: Vlad Iordachescu (Romania), Radu Petrescu (Romania)
Chile vs Portugal in Santiago, Chile
Referee: Joaquin Montes (Uruguay)
Assistant referees: Henrique Platais (Brazil), Juan Sylvestre (Argentina)
Spain vs Zimbabwe at Hage-Geingob Stadium, Windhoek
Referee: Jason Jaftha (South Africa)
Assistant referees: Tian Jonker (South Africa), Jacky Hüsselman (Namibia)
Tour Matches
Irish Wolfhounds vs Fiji at Thomond Park, Limerick
Referee: Leighton Hodges (Wales)
Assistant referees: Neil Hennessy (Wales), Sean Brickell (Wales)
Television match official: Gareth Simmonds (Wales)
Gloucester vs Fiji at Kingsholm, Gloucester
Referee: JP Doyle (England)
Assistant referees: Robin Goodliffe (England), Greg Garner (England)
Leicester Tigers vs Maori
Referee:Referee: Martin Fox (England)
Assistant referees: Andrew Small (England), Paul Dix (England)
Newcastle Falcons vs Tonga
Referee: Sean Davey (England)
Assistant referees: Steve Lee (England), Darryl Chapman (England)
Championship XV vs NZ Maori
Referee: David Rose (England)
Assistant referees: Steve Lee (England), Simon McConnell (England)
Television match official: Trevor Fisher (England)
PRO12
Zebre vs Ulster at Stadio XXV Aprile
Referee: Andrew McMenemy (Scotland)
Assistant referees: Matteo Liperini (Italy), Stefano Pennè (Italy)
Television match official: Alan Falzone (Italy)
LV= Cup
Harlequins vs Bath
Referee: James Jones (Wales)
Assistant referees: Matthew Carley (England), Gareth Copsey (England)
Timekeeper: Bob Ockenden (England)
Sale Sharks vs Saracens
Referee: Llyr Apgeraint-Roberts (England)
Assistant referees: Stuart Terheege (England), Ashley Rowden (England)
Timekeeper: Mike Hamlin (England)
Gloucester vs London Welsh
Referee: Tim Wigglesworth (England)
Assistant referees: Paul Burton (England), Peter Huckle (England)
Timekeeper: Eric Bullion (England)
Exeter Chiefs vs Ospreys
Referee: Greg Garner (England)
Assistant referees: Ross Campbell (England), Andrew Pearce (England)
Timekeeper: Matthew Peters (England)
Scarlets vs Cardiff
Referee: JP Doyle (England)
Assistant referees: Greg Morgan (Wales), Jason Langdon (Wales)
Television match official: Tony Rowlands (Wales)
Television match official: Tony Rowlands (Wales)
London Wasps vs Worcester
Referee: Rhys Thomas (Wales)
Assistant referees: Roy Maybank (England), Andrew Small (England)
Timekeeper: Roy Marfleet (England)
Leicester Tigers vs London Irish
Referee: Ian Davies (Wales)
Assistant referees: Alan Hughes (England), Kevin Stewart (England)
Timekeeper: David Hudson (England)
Newport Gwent Dragons vs Northampton Saints
Referee: Luke Pearce (England)
Assistant referees: Chris Williams (Wales), Julian Smith (Wales)
Television match official: Huw Lewis (Wales)