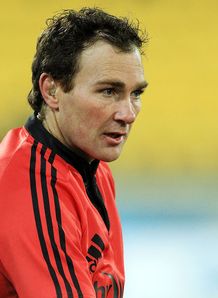 Former Chiefs and Saracens fly-half Glen Jackson will referee England's opening end-of-year Test against Fiji on November 10.
The 36-year-old represented the Chiefs in 60 Super Rugby matches and played more than 100 times for Sarries and hung up his playing boots in 2010 to pursue a refereeing career in New Zealand.
This after the International Rugby Board launched an initiative to fast-track ex-professional players if they prove good enough.
He was part of the refereeing panel at this year's Junior World Championship,in South Africa earlier this year, and his ratings were such under the IRB's new system of appointing referees for Test matches, that he will referee a match involving a tier one nation for the first time.
French referee Romain Poite will officiate England's second game against Australia, the Wallabies' first visit back to Twickenham since a Chris Ashton-inspired side won 35-18 in 2010.
Welsh referee Nigel Owens will take charge of England against South Africa on November 24, while George Clancy (Ireland), will referee the final game against New Zealand on December 1.
Elsewhere, top RFU referees Greg Garner and Wayne Barnes will take charge of three games during November's busy international period.
Garner, who took charge of the 2012 IRB Junior World Championship final between South Africa and New Zealand, will officiate his first full international game when Italy face Tonga on November 10.
Barnes meanwhile, will hold the whistle for the mouth-watering clash between Ireland and South Africa on the same date in Dublin and Wales versus Australia on December 1 in Cardiff.
November match officials
3 November 2012
Oxford University vs Russia in Oxford, England
Referee: tba (England)
9 November 2012
Russia vs USA at Parc Eirias, Colwyn Bay, Wales
Referee: Leighton Hodges (Wales)
Samoa vs Canada at Parc Eirias, Colwyn Bay, Wales
Referee: Francisco Pastrana (Argentina)
10 November 2012
England vs Fiji at Twickenham, London
Referee: Glen Jackson (New Zealand)
Assistant referees: Craig Joubert, Marius Mitrea (Italy)
Television match official: Gareth Simmonds (Wales)
Wales vs Argentina at Millennium Stadium, Cardiff
Referee: Romain Poite (France)
Assistant referees: George Clancy (Ireland), Dudley Phillips (Ireland)
Television match official: Jim Yuille (Scotland)
France vs Australia at Stade de France, Paris
Referee: Nigel Owens (Wales)
Assistant referees: John Lacey (Ireland), Neil Paterson (Scotland)
Television match official: Nigel Whitehouse (Wales)
Italy vs Tonga at Stadio Mario Rigamonti, Brescia
Referee: Greg Garner (England)
Assistant referees: Alain Rolland (Ireland), Mathieu Raynal (France)
Television match official: Eric Gauzins (France)
Ireland vs South Africa Aviva Stadium, Dublin
Referee: Wayne Barnes (England)
Assistant referees: Steve Walsh (Australia), Luke Pierce (England)
Television match official: Giulio De Santis (Italy)
Romania vs Japan in Bucharest, Romania
Referee: Jaco Peyper (South Africa)
11 November 2012
Scotland vs New Zealand at Murrayfield, Edinburgh
Referee: Jérôme Garces (France)
Assistant referees: Pascal Gauzere (France), Simon McDowell (Ireland)
Television match official: Graham Hughes (England)
Uruguay vs Portugal in Montevideo, Uruguay
Referee: Juan Sylvestre (Argentina)
Assistant referees: Felipe Balbontin (Chile), Henrique Platais (Brazil)
13 November 2012
Gloucester vs Fiji at Kingsholm, Gloucester
Referee: tba (England)
16 November 2012
Wales vs Samoa at Millennium Stadium, Cardiff
Referee: Pascal Gauzere (France)
Assistant referees: Wayne Barnes (England), Jérôme Garces (France)
Television match official: Giulio De Santis (Italy)
17 November 2012
England vs Australia at Twickenham, London
Referee: Romain Poite (France)
Assistant referees: Nigel Owens, Mathieu Raynal
Television match official: Jim Yuille (Scotland)
France vs Argentina at Grand Stade Lille Metropole, Lille
Referee: Steve Walsh (Australia)
Assistant referees: Jaco Peyper (South Africa), David Changleng (Scotland)
Television match official: Carlo Damasco (Italy)
Italy vs New Zealand at Stadio Olimpico, Rome
Referee: Alain Rolland (Ireland)
Assistant referees: Craig Joubert (South Africa), Peter Allan (Scotland)
Television match official: Nigel Whitehouse (Wales)
Scotland vs South Africa at Murrayfield, Edinburgh
Referee: George Clancy (Ireland)
Assistant referees: John Lacey (Ireland), Christophe Berdos (France)
Television match official: Eric Gauzins (France)
Canada vs Russia at Parc Eirias, Colwyn Bay, Wales
Referee: Lourens van der Merwe (South Africa)
Tonga vs USA at Parc Eirias, Colwyn Bay, Wales
Referee: Francisco Pastrana (Argentina)
Georgia vs Japan in Tbilisi, Georgia
Referee: Glen Jackson (New Zealand)
Assistant referees: Vlad Iordachescu (Romania), Radu Petrescu (Romania)
Ireland XV vs Fiji at Thomond Park, Limerick
Referee: Leighton Hodges (Wales)
Chile vs Portugal in Santiago, Chile
Referee: Joaquin Montes (Uruguay)
Assistant referees: Henrique Platais (Brazil), Juan Sylvestre (Argentina)
21 November 2012
Basque Selection vs Japan at Anoeta Stadium, San Sebastian
Referee: tba (France)
23 November 2012
Canada vs Maori All Blacks at Iffley Road, Oxford, England
Referee: tba (England)
24 November 2012
England vs South Africa at Twickenham, London
Referee: Nigel Owens (Wales)
Assistant referees: Glen Jackson (New Zealand), Peter Fitzgibbon (Ireland)
Television match official: Jim Yuille (Scotland)
Ireland vs Argentina at Aviva Stadium, Dublin
Referee: Jaco Peyper (South Africa)
Assistant referees: Romain Poite (France), Andrew Small (England)
Television match official: Geoff Warren (England)
Wales vs New Zealand at Millennium Stadium, Cardiff
Referee: Craig Joubert (South Africa)
Assistant referees: Jérôme Garces, Greg Garner (England)
Television match official: Graham Hughes (England)
France vs Samoa at Stade de France, Paris
Referee: John Lacey (Ireland)
Assistant referees: Alain Rolland (Ireland), Dudley Phillips (Ireland)
Television match official: Iain Ramage (Scotland)
Scotland vs Tonga at Pittodrie Stadium, Aberdeen
Referee: Mathieu Raynal (France)
Assistant referees: George Clancy (Ireland), Marius Mitrea (Italy)
Television match official: Carlo Damasco (Italy)
Italy vs Australia at Stadio Artemio Franchi, Florence
Referee: Lourens van der Merwe (South Africa)
Assistant referees: Wayne Barnes (England), Neil Paterson
Television match official: Marshall Kilgore (Ireland)
Georgia vs Fiji in Tbilisi, Georgia
Referee: Pascal Gauzere (France)
Romania vs USA in Bucharest, Romania
Referee: Leighton Hodges (Wales)
Assistant referees: Andrew McMenemy, Ian Davies
25 November 2012
France Barbarians vs Japan at Stadium Oceane, Le Havre
Referee: Francisco Pastrana (Argentina)
1 December 2012
England vs New Zealand at Twickenham, London
Referee: George Clancy (Ireland)
Assistant referees: Nigel Owens (Wales), Lourens van der Merwe (South Africa)
Television match official: Giulio De Santis (Italy)
Wales vs Australia at Millennium Stadium, Cardiff
Referee: Wayne Barnes (England)
Assistant referees: Romain Poite, Greg Garner (England)
Television match official: Marshall Kilgore (Ireland)