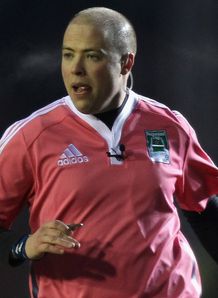 Foreign referees will take charge of all seven Top 14 Round Eight fixtures this weekend as part of the ongoing international exchange programme.
John Paul Doyle, Peter Fitzgibbon (IRFU), John Lacey (IRFU), Neil Paterson (SRU), Neil Hennessy (WRU), Dudley Phillips (IRFU) and Marius Mitrea (FIR) will be the whistle blowers in France on Friday and Saturday as part of an initiative to help both clubs and officials better prepare for European competition.
French referees will in turn be invited to manage games other major European competitions over the course of the season, starting this weekend.
Frenchman Mathieu Raynal referee Saturday's match between London Irish and Northampton in the English Premiership.
"Choosing Round Eight, on the eve of European Cups, is a deliberate choice to help our clubs to better prepare for these fixtures" said French referees boss Didier Mene.
"At the same time, it allows referees from each of the European nations to discover other playing and club cultures and game clubs, which should make the European and French refereeing stronger. "