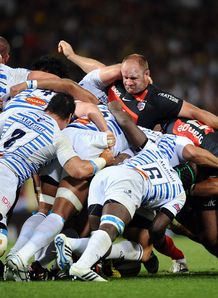 Related links
Also see
Former France hooker and current Toulouse forwards coach William Servat has called on referees to back themselves and punish offenders at scrum time.
Servat is concerned about the state of the scrum in modern rugby but is convinced that educated referees hold the answer to seeing it maintain it's place in the game.
The new scrum calls made their debut in France last week when Toulouse opened the Top 14 season against Castres. (The words "pause" and "engage" are being replaced by "set" in English speaking countries while "pause" and "entrez" have been replaced by "'jeu" in France) .
The defending champions did not have it all their way at scrum time but Servat was happy to see referee Romain Poite have the courage to make some tough calls rather than let the set piece degenerate into a non-event.
"I have to congratulate the referee because he was very coherent in that phase," said Servat.
"He took his responsibilities, in line with the meeting we had with the Top 14 referees at the start of the season.
"The scrum is in danger in France. But if officials continue to have the same will to ref the scrum and not just be content to manage it, I'm sure it'll be for the better.
"At the start of the season (French referees boss) Didier Méné promised that his men would ref this phase of the game, and I hope it continues.
"For me (the new calls) don't change much. Whether we say "entrez" or "'jeu", is the same.
"What is important in my eyes is the referees' will not to allow teams to jump the gun. In athletics, if Usain Bolt does a false start, he's eliminated from the race. In scrums, it should be the same."