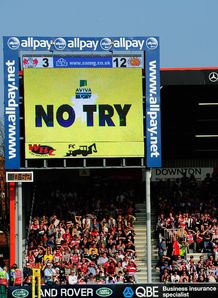 Related links
Also see
Television match officials will be given wider powers under a series of rule changes that will be implemented later this year.
The amendments, which were announced on Tuesday by the International Rugby Board, will also set a 90-second limit for conversion attempts and restrict the amount of time the ball can be held at the back of a ruck.
The IRB says the changes will be implemented on a trial basis from August in the northern hemisphere and from January in the southern, applying at domestic and international level.
The most far-reaching of the changes concerns the powers given to television match officials, who will now be able to rule on foul play and on incidents which occur inside the field of play in the lead up to a try.