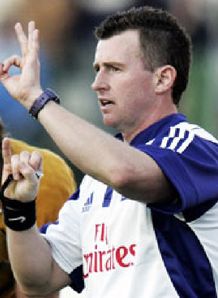 Related links
Teams
Craig Joubert is back in Auckland, for the fourth time this year to run touch in the Bledisloe Cup this weekend, the final of the Tri-Nations. Having well defeated all the tourist spots and having a tee-off time only on Friday, he passed some of his time catching up with one of his old mates from the IRB Sevens, this weekend's Bledisloe Cup Referee from Wales, Nigel Owens.
Craig Joubert: Nige, good to catch up. I think the last time was in Hong Kong at the IRB Sevens Rugby World Cup in 2005.
Nigel Owens: Yes, the Sevens was a great place to launch one's IRB refereeing career. It was where we first got recognised and developed. The margins for error in Sevens are less than in 15s and so it taught us how to deal with pressure situations.
Craig Joubert: And from the fields of Hong Kong, Dubai, LA, etc to the deciding Bledisloe Cup and Tri-Nations fixture at Eden Park!
Nigel Owens: If you had asked me four months ago if I was going to referee a Tri-Nations game I would have said no! This will be only my sixth international. So it's a big challenge. I have done about 24 Heineken Cup games, including some crucial fixtures in the last two years which have been of international intensity so that should stand me in good stead.
Craig Joubert: You moonlight as a stand-up comedian. What's the history to that?
Nigel Owens: I come from a small community in Wales. When I was 14 there was a comedian by the name of Ifan Gruffydd who was on a Friday night TV show. I used to remember his one-liners and recite them to my school mates to make them laugh. One night I accompanied my parents to a "Cawl a chan" evening (traditional Welsh evening of food and comedy entertainment). The comedian didn't arrive and so I decided to take the stage and roll off my repertoire of one liners. An hour later I was still on stage. I learnt two things that night; 1) I could make people laugh and 2) Always leave the audience wanting more.
For the first 40 mins I had the audience rolling around with laughter, I should have stopped. Instead I carried on for another 20 mins, the response was average compared to my first 40 mins.
In my late teens I landed a gig on a TV program called 'Evening of entertainment' as a stand-up comedian. I moved on to host the show after that.
The confidence required to stand up in front of a room as a stand-up comedian is not that different to the confidence required to stand out in the middle of a stadium and before a TV audience of millions and referee Test-match rugby!
Craig Joubert: My lasting memory of you from the Hong Kong Sevens is a one-liner you delivered to a particularly chatty Argentinian which went something like "You have two ears and one mouth, use them in proportion." You reckon you might get that one out on Saturday night when Gregan starts yapping?
Nigel Owens: Could well have to use that line again if the players get chatty on Saturday night.
Craig Joubert: What about singing? I recall most of our Sevens after-parties ended in song with you delivering a performance significantly superior to the rest of our tone deaf efforts!
Nigel Owens: I started singing hymns at Sunday School and in the Chapel. Doing stand-up comedy for an hour is hard work and so I started mixing up a couple of jokes with some singing (much like the famous Welshman Max Boyce). The only time I have ever physically been shaking on stage was at the Hong Kong Sevens. All the teams had a turn to take to the stage and sing a song, you guys pushed me into representing the referees and I had to stand up there alone and sing the Green Green Grass of Home.
Craig Joubert: I remember that, I was keen to join you but the rest of the boys were scared I would drown you out with my voice which has volume but unfortunately little tone!
Have whistle, will travel - talk me through your average annual travel requirements.
Nigel Owens: Our travel is significantly less arduous than that of the South Africans!
Within Wales the longest trip is only an hour and twenty minutes by car.
Heineken Cup involves leaving the day before a game and returning the day afterwards. The longest trip would be to Italy which is about a two-hour flight. I would generally do this six to seven times a year.
The Celtic/Magners League involves Irish, Scottish and Welsh teams. Generally I can travel on the day of the game and am within an hour flight of my destination (neutrality dictates a Welshman referees in Ireland and Scotland). I would generally do this six to seven times a year.
International travel is also relatively easy as Six Nations and the November Internationals are played in Europe which means traveling the day before and returning the day afterwards. In terms of the June/July window internationals I have only this two-week trip to New Zealand this year.
Craig Joubert: As a comparison I have to get on a plane to travel anywhere in South Africa.
Currie Cup requires us to travel the day before a game and return the day after, generally about 12 times a year.
Super 14 requires a trip to either Australia (14 hours) or New Zealand (17 hours) and requires us to leave South Africa on the Monday prior to the game to deal with the effects of jet lag, generally four times per year for up to three weeks at a time.
In addition to that I have also been back to New Zealand twice during these June/July window internationals.
Six Nations and the November internationals are easier as there is no jet lag to contend with although we still need to depart South Africa on the Monday prior to the game because of the long-distance travel through London and on to Europe.
Luckily we love the travel!
Your favourite country visited?
Nigel Owens: South Africa.
Craig Joubert: You okes all say that. Good answer! Why?
Nigel Owens: I love the history, the different cultures and the fact that its got a little bit of everything (wild life, beaches, mountains). Also being a Welshman I think Wales, New Zealand and South Africa are three countries that share a similar passion and culture for rugby which makes coming to South Africa a good experience.
Craig Joubert: Final thoughts on what will be your biggest refereeing moment so far on Saturday night?
Nigel Owens: I was watching an interview with Jack Nicklaus recently, the interviewer asked him whether he ever got tired of golf and life in the public eye. Jack said the last British Open he played was at St Andrew's, his favourite course in the world. There was a huge gallery and there was pressure to perform and he thought "This is what it's all about, I'm going to enjoy every moment." Likewise on Saturday night there will be pressure to perform and I'll be thinking during the anthems "This is what it's all about, I'm going to enjoy every moment!"