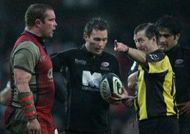 Tony Spreadbury of England will blow to kick off the 2007 Rugby World Cup. He is one of 12 referees appointed to referee the matches at rugby's showpiece event and has been awarded the opening match - France vs Argentina at Stade de France.
The International Rugby Board (IRB) has published the names of the 12 referees and the 13 touch judges to officiate at the World Cup to be hosted by France.
In total seven nations are represented on the panel of referees with three referees - Wayne Barnes (England), Nigel Owens (Wales) and Marius Jonker (South Africa) - making their Rugby World Cup debut in France, while Stuart Dickinson, Paul Honiss, Jonathan Kaplan, Steve Walsh and Chris White will be attending their third Rugby World Cup.
"The IRB Match Official Selection Committee was delighted by the standard of match officials available for selection for Rugby World Cup 2007," said Paddy O'Brien, the IRB Referees Manager.
"While inevitably there are those who are unlucky to miss out on selection, it is really exciting to see the likes of Wayne Barnes, Nigel Owens and Marius Jonker all included within a Rugby World Cup referees panel for the first time on merit."
In addition to the panel of 12 Rugby World Cup referees, 13 specialist touch judges have been selected who will assist during the tournament's pool stages.
All ten Tier One nations are represented within the selection, which includes Argentina's Federico Cuesta and Italy's Carlo Damasco. From the quarter-finals onwards, the referees will also act as touch judges.
The referees are chosen by a selection panel of David Pickering (chairman), Kevin Bowring (coaches), Bob Francis (New Zealand), Tappe Henning (South Africa), Steve Hilditch (Ireland) and Michel Lamoulie (France). Pickering and Bowring are from Wales.
The match officials for the 2007 Rugby World Cup are:
Referees:
Wayne Barnes (England)
Stuart Dickinson (Australia)
Paul Honiss (New Zealand)
JoŽl Jutge (France)
Marius Jonker (South Africa)
Jonathan Kaplan (South Africa)
Alan Lewis (Ireland)
Nigel Owens (Wales)
Alain Rolland (Ireland)
Tony Spreadbury (England)
Steve Walsh (New Zealand)
Chris White (England)
Touch judges:
Christophe Berdos (France)
Lyndon Bray (New Zealand)
Malcolm Changleng (Scotland)
Federico Cuesta (Argentina)
Carlo Damasco (Italy)
Kelvin Deaker (New Zealand)
Craig Joubert (South Africa)
Bryce Lawrence (New Zealand)
Mark Lawrence (South Africa)
Simon McDowell (Ireland)
Paul Marks (Australia)
Dave Pearson (England)
Hugh Watkins (Wales)