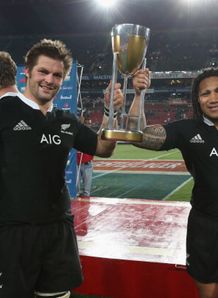 Related links
Teams
Also see
The New Zealand Rugby Union confirmed on Tuesday the All Blacks will travel to take on the USA in Chicago on November 1st.
The world's best will take on their American counterparts at the 61,000-seater Solider Field stadium, home to the NFL's Chicago Bears.
Though rumours and speculation regarding this fixture have bubbled away for nearly six months, it was only on Tuesday that the match was publicly announced as the Kiwis' newest overseas initiative, with the purposes of drawing on the developing market - boasting huge potential - in the USA, generating a ballpark figure of at least $1 million NZ dollars for the NZRU, and offering the Test side important preparation for the subsequent fixtures in Europe.
"We are very excited to be taking the All Blacks to a part of the world we know is incredibly keen on all sports and where we believe there is a real thirst to see the style of rugby we are famous for," said NZRU chief executive Steve Tew. "We think Chicago and Solider Field is a great fit for both sides.
"I visited Soldier Field recently and this is a stadium with huge atmosphere, rich history and wonderful facilities and a ground which has never hosted an international rugby match."
Talisman New Zealand captain Richie McCaw said he believed taking the All Blacks to uncharted territory would help a nation like America realise its rugby potential. The two sides have not met for over 20 years, since the 1991 World Cup.
"You look at the calibre of athletes you see playing basketball and NFL and if they put some real energy into rugby, there would be a fairly big pool to choose from. A lot of people don't know about the All Blacks in the US so it will be great to show what rugby is all about," said McCaw.
New Zealand drew in over 25,000 spectators to last November when taking on Japan in Tokyo, while the NZ Maori sold-out PPL Park, Philadelphia in a tightly-contested victory over the USA .