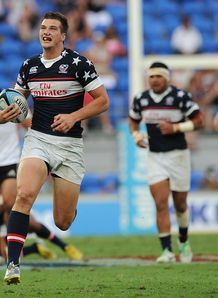 Related links
Teams
USA Rugby Chief Executive Officer Nigel Melville confirmed on Wednesday the USA Rugby has "expressed its intent to tender" to host the IRB Rugby World Cup Sevens 2018 and that USA Rugby is now seeking cities interested in hosting the event.
More than 10 countries have also expressed interest in hosting the event, which will be the seventh edition of the RWC Sevens. Since 1993, Scotland, Hong Kong, Argentina, United Arab Emirates and Russia have hosted the event, with Hong Kong having hosted it twice.
The International Rugby Board will distribute the tender documentation to potential host unions August 29, 2014. Bids will be submitted December 5, 2014. The IRB will decide the host venue May 14, 2015.
"2018 may appear to be a long way away at this time, but the decision on who will host the Rugby World Cup Sevens in 2018 will be made in the next 13 months," Melville said.
"The USA Rugby Board have already established a Rugby World Cup bid committee under the chairmanship of board member Will Chang and talks have already taken place with a small number of cities who have expressed interest in hosting this incredible event."
With Rugby Sevens slated for the Olympic Program in 2016 and 2020, the IRB announced the event would be rescheduled from 2017 to 2018 into an off-year cycle to "provide a key high performance pathway for teams around the world."
"I am delighted to be chairing USA Rugby's Rugby World Cup 2018 bid committee and I look forward to hearing from cities interested in hosting this incredible event," Chang said.
"The Rugby World Cup Sevens in 2018 will be an important global rugby event ahead of the Tokyo 2020 Olympic Summer Games and will continue to support the growth of rugby sevens in America. This will be a great opportunity for USA Rugby fans to watch a Rugby World Cup on home soil."