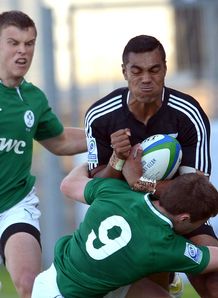 Related links
Teams
England set the highest score ever in JWC history on Thursday when they beat the USA 109-0 to join Wales, New Zealand and South Africa in the semis.
Seventeen tries were scored in all by the English who will take on the Baby Blacks on Tuesday after they had defeated a spirited Ireland outfit 31-26.
Holders South Africa defeated France 26-19 in an enthralling game that sees them go into the last four where they will face an unbeaten Wales.
Day 3 results
Pool A: England 109-0 USA, France 19-26 South Africa
Pool B: New Zealand 31-26 Ireland, Australia 46-12 Fiji
Pool C: Wales 25-20 Argentina, Scotland 36-33 Samoa
Final standings
Pool A
South Africa 13
England 10
France 6
USA 0
Pool B
New Zealand 14
Ireland 10
Australia 7
Fiji 0
Pool C
Wales 13
Argentina 10
Scotland 6
Samoa 2
Knockout fixtures
9th Place Semi-Final
18 Jun, 18:00 - Samoa v Fiji at Stade Pascal Laporte, Nantes
18 Jun, 20:15 - Scotland v USA at Stade Pascal Laporte, Nantes
5th Place Semi-Final
18 Jun, 18:00 - Argentina v Australia at Stade Henri Desgrange, La Roche-sur-Yon
18 Jun, 20:15 - Ireland v France at Stade Henri Desgrange, La Roche-sur-Yon
Semi-Finals
18 Jun, 18:15 - South Africa v Wales at Stade de la Rabine, Vannes
18 Jun, 20:45 - New Zealand v England at Stade de la Rabine, Vannes