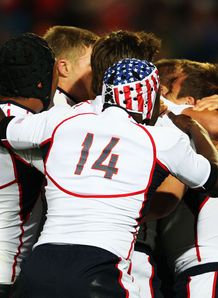 Related links
Teams
The USA Eagles eased past Romania 34-3 in Bucharest on Saturday, with Chris Wyles collecting a personal haul of 19 points.
The visitors crossed the whitewash on five occasions with Wyles bagging a brace, while Andrew Suniula, Paul Emerick and Takudzwa Ngwenya also added their name to the scoresheet.
The game was all but wrapped up by half-time as the Americans led 22-3, with pivot Andrei Filip providing the only points for Romania.
The end result, thanks to a committed performance by the forwards, was one of the Eagles most impressive victories in years.
The scorers:
For Romania:
Pen: Filip
For USA:
Tries: Wyles 2, A. Suniula, Emerick, Ngwenya
Cons: Wyles 3
Pen: Wyles
The teams:
Romania: 15 Catalin Fercu, 14 Madalin Lemnaru, 13 Ionel Cazan, 12 Csaba Gal, 11 Ionut Botezatu, 10 Andrei Filip, 9 Florin Surugiu, 8 Ovidiu Tonita, 7 Mihai Macovei (c), 6 Vasile Rus, 5 Alin Coste, 4 Cosmin Ratiu, 3 Mihaita Lazar, 2 Otar Turashvili, 1 Petru Tamba.
Replacements: 16 Andrei Radoi, 17 Horatiu Pungea, 18 Vlad Badalicescu, 19 Alexandru Manta, 20 Viorel Lucaci, 21 Grigoras Diaconescu, 22 Ionut Florea, 23 Constantin Gheara.
USA: 15 Chris Wyles, 14 Takudzwa Ngwenya, 13 Paul Emerick, 12 Andrew Suniula, 11 Luke Hume, 10 Toby L'Estrange, 9 Mike Petri, 8 Todd Clever, 7 Peter Dahl, 6 John Quill, 5 Louis Stanfill, 4 Scott Lavalla, 3 Eric Fry, 2 Chris Biller, 1 Shawn Pittman.
Replacements: 16 Derek Asbun, 17 Nick Wallace, 18 Zachary Fenoglio, 19 Graham Harriman, 20 Inaki Basauri, 21 Robbie Shaw, 22 Roland Suniula, 23 Zachary Pangelinan..