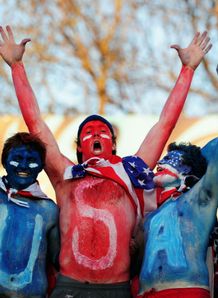 Related links
Teams
Italy will visit the United States to tackle the Eagles in a Test fixture to be played at Houston on June 23.
The Eagles will host the Italians in the first international event on the new home pitch of Major League Soccer's Houston Dynamo, a 22,000-seater stadium still under construction but set to open in May.
The Americans will be guided by new coach Mike Tolkin, who replaced Eddie O'Sullivan after the former Ireland mentor resigned last November.
In their most recent meeting, Italy beat the USA 27-10 at last year's Rugby World Cup in New Zealand.
"In New Zealand we struggled to match the power of the Italian forwards," Tolkin said.
"They played a forwards-oriented game, slowed our ball down, and made us struggle in the set piece on both sides of the ball.
"The intensity will be there on our part, but we'll need to match that power in Houston. These are the types of games that the Eagles need to play to improve, and eventually, we need to start winning them as well."
The Eagles will also visit Canada on June 9 at Kingston and play host to Georgia on June 16.