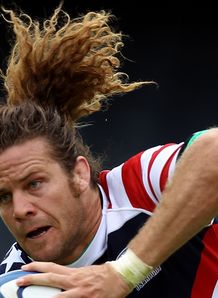 Related links
Teams
USA coach Eddie O'Sullivan has selected his 30-man squad that will represent the Eagles at the 2011 Rugby World Cup in New Zealand.
The Eagles will compete in Pool C at the RWC, taking on Australia, Ireland, Italy and Russia.
"I think there is a sense of relief that we are now in a position to name the final squad of 30 for the RWC. It has been a thorough process and I belief that we have the best 30 players available to us heading into the RWC," said O'Sullivan.
"As expected we have had to make some very tough decisions to get to the final squad, but that is just reflection on the talent available to us."
Todd Clever will captain the squad, with sixteen forwards and fourteen4 backs making up the team. Mike Petri, who led the Eagles against Japan on Sunday in Tokyo, has been named the vice-captain.
Selected in the front-row are Mike MacDonald, Mate Moeakiola, Eric Fry and Shawn Pittman. Three hookers have been selected in Chris Biller, Phil Thiel and Brian McClenahan.
The lock specialists are John van der Giessen, Hayden Smith and Scott LaValla. The loose forwards include Inaki Basauri, Pat Danahy, JJ Gagiano, Nic Johnson, Louis Stanfill, along with Clever.
In the backline, Tim Usasz is at scrum-half with Petri. Partnering them at flyhalf are Nese Malifa and Roland Suniula. The centres will be Paul Emerick, Tai Enosa, Junior Sifa and Andrew Suniula.
Out wide the wings are Colin Hawley, Taku Ngwenya, James Paterson and Kevin Swiryn. Chris Wyles and Blaine Scully complete the squad as full-backs.
"All eyes are now turned to RWC and our departure from the USA on September 1," added O'Sullivan.
The squad will assemble in Santa Barbara on August 28 for their final preparations before flying to New Zealand on September 1.
USA squad:
Forwards: Inaki Basauri, Chris Biller, Todd Clever, Pat Danahy, Eric Fry, JJ Gagiano, Nic Johnson, Scott LaValla, Mike MacDonald, Brian McClenahan, Mate Moeakiola, Shawn Pittman, Hayden Smith, Louis Stanfill, Phil Thiel, John van der Giessen.
Backs: Paul Emerick, Tai Enosa, Colin Hawley, Nese Malifa, Taku Ngwenya, James Paterson, Mike Petri, Blaine Scully, Junior Sifa, Andrew Suniula, Roland Suniula, Kevin Swiryn, Tim Usasz, Chris Wyles.