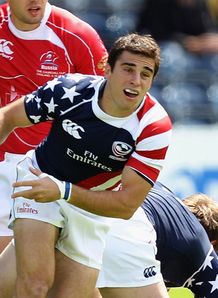 Related links
Teams
USA scrum-half Mike Petri will captain the side in the absence of injured flank Todd Clever when the Eagles play Japan in Tokyo on Sunday.
It's the team's last match before the start of the Rugby World Cup, after losing to Canada twice in earlier warm-ups.
Veteran loosehead prop Mike MacDonald will equal the United States Test caps record. Britain-based MacDonald's 62nd appearance will tie the record of former team-mate Luke Gross, who retired after the 2003 World Cup.
Highlanders winger James Paterson will make his USA senior debut. The New Zealand-born Paterson played for the Eagles at U19 level. Uncapped Utah loose forward Ryan Chapman was in the reserves.
"Again we have made a number of changes to selection, as this is our final hit out before Rugby World Cup and also our last opportunity to take a look at players before we make the final squad announcement," said USA coach Eddie O'Sullivan, who is due to name his 30 for the World Cup after the match.
Meanwhile, Japan coach John Kirwan has made 12 personnel changes and one positional switch from the team that lost 31-24 to Italy last week.
"It's very important that we go to the World Cup with a win and a good performance behind us. I haven't set the team any particular targets. We just need to win and win well," he said.
The teams:
Japan: 15 Taihei Ueda, 14 Takehisa Usuzuki, 13 Alisi Tupuailai, 12 Ryan Nicholas, 11 Hirotoki Onozawa, 10 Murray Williams, 9 Tomoki Yoshida, 8 Takashi Kikutani, 7 Tadasuke Nishihara, 6 Sione Vatuvei, 5 Luke Thompson, 4 Hitoshi Ono, 3 Nozomu Fujita, 2 Yusuke Aoki, 1 Naoki Kawamata.
Replacements: 16 Shota Horie, 17 Kensuke Hatakeyama, 18 Toshizumi Kitagawa, 19 Itaru Taniguchi, 20 Atsushi Hiwasa, 21 Koji Taira, 22 Shaun Webb.
USA Eagles: 15 Blaine Scully, 14 Kevin Swiryn, 13 Tai Enosa, 12 Paul Emerick, 11 James Paterson, 10 Nese Malifa, 9 Mike Petri (c), 8 JJ Gagiano, 7 Louis Stanfill, 6 Patrick Danahy, 5 Hayden Smith, 4 Scott LaValla, 3 Eric Fry, 2 Phillip Thiel, 1 Mike Macdonald.
Replacements: 16 Chris Biller, 17 Shawn Pittman, 18 Nic Johnson, 19 Ryan Chapman, 20 Tim Usasz, 21 Roland Suniula, 22 Andrew Suniula.
Referee: Jérôme Garces (France)