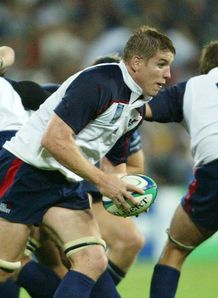 Related links
Teams
Former USA Eagles captain Dan Lyle believes his countrymen will be eyeing "one or two" results at this year's Rugby World Cup.
The Americans - who have lost back-to-back World Cup warm-up Tests against Canada - face tough assignments against Australia, Ireland, Italy and Russia in Pool C.
The USA have won just two of their 17 World Cup matches to date, but Lyle - who played in the RWC win over Japan in 2003 - says the Eagles will be targeting a win against the likes of Russia.
Coach Eddie O'Sullivan's team beat the Russians in the Churchill Cup.
"We will have a similar time as the last two or three World Cups," Lyle told skysports.com.
"I think the Eagles will target one or two matches to win and one or two matches to play above themselves.
"We will need to keep hold of the ball well, tackle hard and show passion, though."
The former Leicester and Bath number eight believes that the current Eagles side has some quality players in their squad - although if the USA are to improve on their World Cup record, others will need to step up to the mark.
"With Taku Ngwenya and Kevin Swiryn on the wings there is plenty of pace, while there are a couple of guys in the forwards, such as Todd Clever and Mike MacDonald, so there's some pretty dynamic guys," Lyle said.
"We've Chris Wyles, too. He is a bit like Mike Catt or Pat Howard, where he plays anywhere, so we have some guys we've experience.
"The problem is that when you have these guys playing abroad it is how they can play together collectively.
"We will need them to play their very best games and then see how others rise to the occasion."