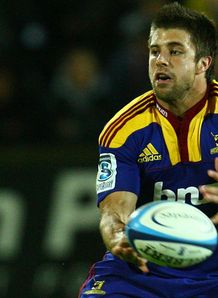 Related links
Teams
Highlanders winger James Paterson has been included in a 50-man Rugby World Cup training squad by the USA Eagles on Wednesday.
The names were submitted to the International Rugby Board (IRB) as part of a requirement of RWC planning. However, the list is not definitive and the final squad can include players from outside the initial group.
The American squad includes experienced Saracens pair Chris Wyles and Hayden Smith as well as Biarritz winger Taku Ngwenya, who all missed the recent Churchill Cup competition, along with former U19s captain Paterson.
The 24-year-old had a solid Super Rugby debut season, having scored two tries in 21 appearances for his Otago-based side.
"With the World Cup less than three months away we have put together an extended pool of players from which the final Eagles Squad of 30 players will emerge," said Eagles coach Eddie O'Sullivan.
The former Ireland mentor had the chance to watch half of this squad perform in the Churchill Cup tournament that saw the Eagles lose to England Saxons and Tonga before winning the Bowl crown with a triumph over Russia - the Eagles' opponents in New Zealand later this year.
"The players who made the Churchill Cup Squad have the advantage of having been in camp together for the past three weeks," said O'Sullivan.
"But there are players who missed the Churchill Cup for various reasons.
"With a busy July of fitness training ahead and three warm-up games in August, there will be plenty of opportunities for players to impress before we select the final RWC squad near the end of August."
The Eagles will next meet-up at the end of July, before facing Canada on August 6 and 13. The USA will then travel to Tokyo to play against Japan on August 21.
USA Eagles preliminary Rugby World Cup squad:
Forwards: Inaki Basauri (L' Aquila), Chris Biller (San Francisco Golden Gate), Mark Bokhoven (Denver Barbarians), Ryan Chapman (Utah Warriors), Todd Clever (Suntory Sungoliath, Japan), Pat Danahy (Life University), Cameron Dolan (Life University), Eric Fry (Las Vegas Blackjacks), JJ Gagiano (Univ. of Cape Town), Matt Hawkins (Belmont Shore), Nic Johnson (Unattached), Will Johnson (London Irish), Tom Katzfey (New York Athletic Club), Danny LaPrevotte (San Francisco Golden Gate), Scott LaValla (Stade Francais), Mike MacDonald (Leeds Carnegie), Samu Manoa (San Francisco Golden Gate), Brian McClenahan (Olympic Club), Mate Moeakiola (Bobigny 93), Alec Parker (Glendale), Shawn Pittman (London Welsh), Anthony Purpura (Boston Rugby), Hayden Smith (Saracens), Louis Stanfill (Mogliano), Phil Thiel (Life University), John van der Giessen (Utah Warriors)
Backs: Paul Emerick (Life University), Tai Enosa (Belmont Shore), Troy Hall (New York Athletic Club), Colin Hawley (Olympic Club), Nese Malifa (Glendale), Taku Ngwenya (Biarritz), Folau Niua (San Francisco Golden Gate), Thretton Palamo (University of Utah), Mike Palefau (Utah Warriors), James Paterson (Otago Highlanders, New Zealand), Mike Petri (New York Athletic Club), Volney Rouse (San Francisco Golden Gate), Blaine Scully (University of California - Berkeley), Robbie Shaw (Bristol Rugby), Junior Sifa (Nottingham RFC), Andrew Suniula (Chicago Griffins), Roland Suniula (Boston Rugby), Shalom Suniula (Unattached), Kevin Swiryn (Agen), Zack Test (Unattached), Pate Tuilevuka (Old Puget Sound Beach), Seta Tuilevuka (Montpellier), Tim Usasz (Nottingham RFC), Chris Wyles (Saracens)