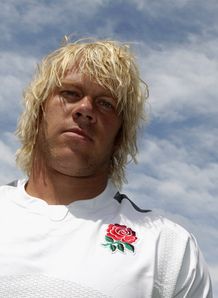 Related links
Teams
Also see
England Saxons have named South African-born lock Mouritz Botha in their side for Saturday's Churchill Cup game against the USA at Northampton.
There are only two survivors from the team that beat Canada 38-18 to claim the trophy in New Jersey last summer with scrum half-Micky Young (Newcastle Falcons) in the starting line-up and full-back Alex Goode (Saracens) on the bench.
But Saxons head coach Stuart Lancaster has an exciting combination of youth and experience to call on. Saracens prop Matt Stevens (32 caps) is the most experienced of six senior internationals while Henry Trinder (Gloucester) and Tom Johnson (Exeter Chiefs) made try-scoring first apperances for England in the non-cap game won 38-32 by the Barbarians last weekend.
Botha makes his first Saxons appearance a week after winning the Aviva Premiership title with Saracens while Amlin Challenge Cup winner Rory Clegg (Harlequins) steps up to start at fly-half.
England Saxons captain Luke Narraway sits out the Churchill Cup's opening game to receive treatment on a calf injury and Leicester Tigers number eight Jordan Crane will lead the side in his place.
"We want to make sure win this trophy again and to do so we've got to win some tough games starting off with the USA and Tonga, both of whom are gearing up for the World Cup later this year," said Lancaster.
"But we've got a good mix of players including seven of those who did well against an experienced Barbarians side at Twickenham and there are more players who've joined us after taking part in big club games at the end of the domestic season.
"There's lots at stake for all of them, whether they're pushing for places in this World Cup this year or the next one in 2015, but the most important thing is to get off to a good start against what we're expecting to be a very smart USA side on Saturday."
After taking on the USA, England Saxons play Tonga at Gloucester on June 12 followed by Italy A, Russia or Canada on the June 18 finals day at Worcester.
Meanwhile, the Eagles will be captained by experienced scrum-half Mike Petri, who pairs up with his New York Athletic Club (NYAC) team-mate, Troy Hall at fly-half. Eddie O'Sullivan will be looking for Hall to marshal the backline, with the talented playmaker slotting in for veteran Nese Malifa. In the centres, Junior Sifa is partnered with Tai Enosa, who is one of seven players to join the squad after the recent Sevens World Series.
The Eagles will have a very fast backline with wings Mile Pulu and Colin Hawley working together with Mike Palefau at full-back. Palefau has had an outstanding season with the Utah Warriors and will certainly be one of the players to watch.
In the forwards, the hard-working Eric Fry starts at prop alongside Will Johnson. The latter - who plays at London Irish - will be very used to the English conditions. Following an excellent Super League season for Life, Phil Thief will get a start at hooker.
Scott LaValla is set to start at lock, with the Trinity College captain having recently signed a contract with one of the top French clubs, Stade Francais. John van der Giessen returns from his cheek injury to partner LaValla in the second row. The flankers are Pat Danahy and Daniel LaProvette, who also faced each other in the exciting Super League final. JJ Gagiano completes the pack at number eight.
England Saxons: 15 Mike Brown, 14 Topsy Ojo, 13 Henry Trinder, 12 Billy Twelvetrees , 11 Miles Benjamin, 10 Rory Clegg, 9 Micky Young, 8 Jordan Crane (c), 7 Tom Johnson, 6 James Gaskell, 5 Dave Attwood, 4 Mouritz Botha, 3 Matt Stevens, 2 Joe Gray, 1 Matt Mullan.
Replacements: 16 David Paice, 17 Kieran Brookes, 18 Graham Kitchener, 19 Jamie Gibson, 20 Paul Hodgson, 21 Alex Goode, 22 Charlie Sharples.
USA: 15 Mike Palefau, 14 Mile Pulu, 13 Tai Enosa, 12 Junior Sifa, 11 Colin Hawley, 10 Troy Hall, 9 Mike Petri (capt), 8 JJ Gagiano, 7 Danny LaPrevotte, 6 Pat Danahy, 5 Scott LaValla, 4 John van der Giessen, 3 Will Johnson, 2 Phil Thiel, 1 Eric Fry.
Replacements: 16 Chris Biller, 17 Shawn Pittman, 18 Louis Stanfill, 19 Inaki Basauri, 20 Tim Usasz, 21 Roland Suniula, 22 Andrew Suniula.
Date: Saturday, June 4
Venue: Franklin's Gardens
Kick-off: 17.00 BST
Referee: Nigel Owens (Wales)
---
Italy A v Canada
Italy A head coach Gianluca Guidi has revealed his team that will take on Canada in the Churchill Cup opener on Saturday at Franklin's Gardens.
The Azzurri, who are making their debut in the competition, will clash with the North Americans under the watchful eye of Nick Mallett.
"We will line up with some very experienced internationals such as Marco Bortolami, Mauro Bergamasco and team captain Valerio Bernaḅ, shoulder to shoulder with emerging guys such as Trevisan, hooker Tommaso D'Apice and centre Denis Majstorovic. All of them played very well in the Italian Championship this season and deserve their selection," said Guidi on his XV.
However, Guidi revealed he is expecting a tough challenge from the Canadians.
"It will be a tough game, no doubt. Canada reached the Churchill Cup final in 2010, beating France in the pool phase, and the Canadians will be committed to perform at their best ahead of the upcoming Rugby World Cup," he added, before talking about his side's debut in the competition.
"It is a privilege for us to compete in the Churchill Cup for the first time and we've picked an interesting squad, with some new guys emerging from the Union youth system. We're working closely with Nick Mallett and his staff and we hope to give him indications for the World Cup."
Meanwhile, Canada coach Kieran Crowley has put together a side ranging from wholly experienced players like Ed Fairhurst at scrum-half and young, budding talents like uncapped Conor Trainor in the centres.
And in the forwards, Crowley has what he believes will be a handy arsenal to combat the eager Italian pack, which he knows will be a strong piece of their game.
"We know it's going to be a real battle," Crowley said.
"We know it will be tough up front, so we've got to get everything right up front so we can set a platform to express ourselves."
Leading the charge up front is captain Pat Riordan in the front row, alongside props Hubert Buydens and Jason Marshall.
Riordan is the stalwart in the front row, with both Buydens and Marshall massing a combined total of only eight caps, but Crowley is confident these three will be just one asset in a forward pack filled with grit.
With Tyler Hotson and Brian Erichsen combining at lock and Jebb Sinclair, Chauncey O'Toole and Aaron Carpenter prowling at loose, Crowley believes the Canadian forwards have the potential to upset the Italian game plan.
Hotson's 17 caps will balance out Erichsen's three, while Carpenter at number eight is a steady anchor for the ever-improving Sinclair and O'Toole on the flanks.
"There's a lot of experience in our forward pack. I'm excited to see how the front row goes, we're looking to see where we're at with them.
"The tight five is solid and in the loose we have Carpenter who's been there a long time. Chauncey O'Toole is an outstanding player and Jebb Sinclair is in the same boat. Both of them have worked really hard over the last few years."
In the backs, Fairhurst's 42 caps will provide a calm and collected approach to unleashing Ander Monro and his exciting back line featuring Phil Mackenzie, Ryan Smith, Trainor, Ciaran Hearn and James Pritchard.
Spattered among the experience of Fairhurst, Monro, Smith and Pritchard are exciting young players which Crowley is keen to test in international waters before having to throw them into the deep end of a world cup.
While Trainor is uncapped, Crowley is confident in the centre's skills and in the ability of the experienced players around him to have a calming effect on the 21-year-old from Vancouver.
"Trainor is making a step up," Crowley said.
"He's a pretty level-headed guy. The experienced guys will help the young guys find their feet. He's already got the size, pace and skill."
The team has had less than a week to work on set piece and specific systems and Crowley said this team will act as a yard stick to how their preparation has been so far and what more needs to be done.
"It takes time around defensive systems and those sorts of things," he said.
"The trainings have been long to get everyone on the same page. It's coming together.
"This is the best side for this game. There's players coming off injury that we've got to manage. It's about getting the best out of the players on the day."
Italy A: 15 Ruggero Trevisan, 14 Andrea Bacchetti, 13 Denis Majstrovic, 12 Matteo Pratichetti, 11 Michele Sepe, 10 Riccardo Bocchino, 9 Tito Tebaldi, 8 Manoa Vosawai, 7 Mauro Bergamasco, 6 Valerio Bernabo' (capt), 5 Marco Bortolami, 4 Corniel Van Zyl, 3 Fabio Staibano, 2 Tommaso D'Apice, 1 Alberto de Marchi.
Replacements: 16 Andrea Manici, 17 Matias Aguero, 18 Dario Chistolini, 19 Joshua Furno, 20 Francesco Minto, 21 Giulio Toniolatti, 25 Durandt Gerber.
Canada: 15 James Pritchard, 14 Ciaran Hearn, 13 Conor Trainor, 12 Ryan Smith, 11 Phil Mackenzie, 10 Ander Monro, 9 Ed Fairhurst, 8 Aaron Carpenter, 7 Chauncey O'Toole, 6 Jebb Sinclair, 5 Brian Erichsen, 4 Tyler Hotson, 3 Jason Marshall, 2 Pat Riordan (C), 1 Hubert Buydens.
Replacements: 16 Ryan Hamilton, 17 Andrew Tiedemann, 18 Mitch Gudgeon, 19 Nanyak Dala, 20 Sean White, 21 Mike Scholz, 22 Matt Evans.
Date: Saturday, June 4
Kick-off: 14:30 (13:30 GMT)
Venue: Franklin's Gardens
Referee: Dave Pearson (England)