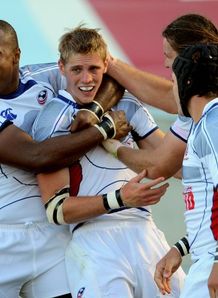 Related links
Teams
Despite having led Ireland to three Triple Crowns, Eddie O'Sullivan says that plays no part in boosting USA's chances of Churchill Cup success.
Speaking at the opening press conference of the 2011 Churchill Cup at Franklin's Gardens, O'Sullivan played down his past coaching role.
"I don't think it makes a lot of difference, I just coach the team as I always coach. We make sure we are as prepared as we can be and put together a game plan that is going to work for us against the opposition," he said.
"I suppose having the experience of coaching test rugby is an advantage, but in terms of the American guys, they are all very keen and focused in trying to give the best preparation possible."
O'Sullivan is expecting a tough challenge against the youthful Saxons on Saturday and believes controlling the pace of the game is going to be the key to success.
"The Saxons will obviously be a tough game, particularly if they can play the game at a high tempo. So that's the big challenge for us, to control the pace of the game," he added.
The Eagles are without a number of their first-choice players due to long domestic seasons, however O'Sullivan sees it as a good chance to look at new players.
"The advantage of us missing a few players is that we can now look at some of the guys who wouldn't be here otherwise," he explained.
"It is a big Churchill Cup for us, it is going to be our main preparation before we hit August for the World Cup so it's really important in that perspective."