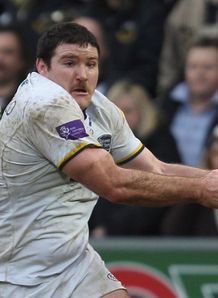 Related links
Teams
USA Eagles coach Eddie O'Sullivan has named five players based in England for the Churchill Cup campaign next month.
Forwards Will Johnson (London Irish), Mike MacDonald (Leeds Carnegie) and Shawn Pittman (London Welsh) are joined by backs Junior Sifa and Tim Usasz who both play for Nottingham.
Two matches in such a short space of time will be challenging for the USA squad, but will provide excellent preparation for the Rugby World Cup as they take on Ireland on September 11 and then Russia on September 15.
The format for the Churchill Cup sees two pools of three teams, with Canada, Italy and Russia completing Pool B. After the pool phase, first, second and third in each pool will then play for the Cup, Bowl and Plate in the elimination matches on June 18.
The USA squad consists of thirteen overseas-based players, while seven members of the squad are currently in the UK representing the United States in the HSBC Sevens World Series and will be joining the team in England.
"The fact that there are some players resting gives an opportunity to others to make a case for inclusion in the final selection for Rugby Word Cup," said O'Sullivan.
"Also, as was impressed on the players at the recent domestic camp at the OTC (Chula Vista), omission from the Churchill Cup squad does not automatically mean omission from the Rugby World Cup squad.
"A lot of things can change between June and August, when the final selection will be made."
USA Eagles Churchill Cup squad:
Forwards: Inaki Basauri (L' Aquila), Chris Biller (San Francisco Golden Gate), Todd Clever (Suntory Sungoliath, Japan), Pat Danahy (Life University), Eric Fry (Las Vegas Blackjacks), JJ Gagiano (Univ. of Cape Town), Nic Johnson (Unattached), Will Johnson (London Irish), Danny LaPrevotte (San Francisco Golden Gate), Scott LaValla (Unattached), Mike MacDonald (Leeds Carnegie), Shawn Pittman (London Welsh), Louis Stanfill (Mogliano), Phil Thiel (Life University), John van der Giessen (Utah Warriors)
Backs: Paul Emerick (Life University), Tai Enosa (Belmont Shore), Troy Hall (New York Athletic Club), Colin Hawley (Olympic Club), Nese Malifa (Glendale), Mike Palefau (Utah Warriors), Mike Petri (New York Athletic Club), Mile Pulu (San Francisco Golden Gate), Junior Sifa (Nottingham RFC), Andrew Suniula (Chicago Griffins), Roland Suniula (Boston Rugby), Kevin Swiryn (Agen), Zack Test (Unattached), Tim Usasz (Nottingham RFC)