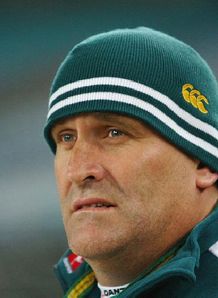 Related links
Teams
Australian Scott Johnson has ended speculation about his future in rugby by agreeing to take over as Head Coach of the US Eagles.
Johnson, who most recently was attacking coach for Australia during last year's Rugby World Cup, will make his American coaching debut as soon as his visa is approved.
"We are obviously delighted to announce Scott as the new Eagles coach," USA Rugby CEO and President of Operations Nigel Melville said.
"He is very knowledgeable and places a strong emphasis on fitness and skills. He has worked with the world's top players and will bring enormous enthusiasm to the role.
"The fact that he has accepted the challenge to coach the Eagles for the next four years is very significant to the future of the game in the US.
"His coaching style is very player-centred and he is excited to work closely with all our national squads' coaches and players."
Following the Rugby World Cup, Johnson turned down several other offers from around the rugby world, preferring to take on the challenge of working with a developing rugby union such as USA Rugby.
"I've always been a huge advocate in the theory that the success of rugby worldwide is contingent on a strong American foothold, and I feel privileged to get this opportunity to be a part of the development of the game on a larger scale," Johnson said.
Renowned for his in-depth rugby mind, Johnson left Australia to work with the then struggling Welsh team. He worked briefly under Graham Henry and then Steve Hansen, becoming a prominent coaching figure as skills coach for Wales in the 2003 Rugby World Cup in his native Australia.
He remained in his position following the departure of Hansen and appointment of Mike Ruddock, and was part of the coaching team that claimed the 2005 Six Nations Grand Slam.
"I want to make it clear that I'm not coming to America to coach as an Australian," Johnson added.
"When I'm there, I'm an American. I'm going to immerse myself in the culture and coach to the strengths and weaknesses of the American athlete.
"I'm in it for the long haul now, and it's important to get this right. In a rugby sense, this is the last frontier and I'm really looking forward to getting the Eagles in a position to be a world force."