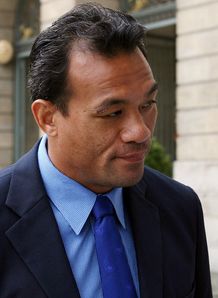 Related links
Teams
Former Samoa star Brian Lima has been found guilty of three charges against him after it emerged he had been violent towards his ex-wife.
Lima was arrested for assaulting Lemalu Sina Retzlaff outside a nightclub, according to the Samoa Observer.
He was found guilty of causing grievous bodily harm, being armed with a dangerous weapon and using threatening words. He will be sentenced later this month.
Lima could face up to seven years in jail. He resigned as defence coach of Samoa following the charges earlier this year.
He is the only player to appear in five Rugby World Cups and has been inducted into the IRB Hall of Fame.
"I am satisfied beyond reasonable doubt that on 13 December 2013 with intention to cause grievous bodily harm to Sina Retzlaff and Sialofi," said Supreme Court Justice, Her Honour Ida Malosi.
"It is therefore not necessary for me to consider alternative charges of actual bodily harm, they are dismissed.
"I am satisfied beyond reasonable doubt on the 13 December 2013, you also used threatening words mainly 'the person who touches me will die'."
"You were armed with an object, namely a Vailima bottle without lawful purpose, and you threw that beer bottle."