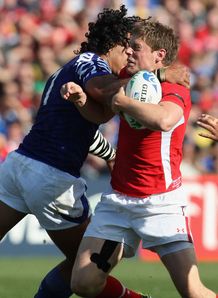 Related links
Teams
Samoa coach Stephen Betham is ready for a spirited response from Wales after their loss to Argentina.
Wales were surprisingly poor against the Pumas, whilst Samoa defeated Canada 42-12 on Friday night with new winger Robert Lilomaiava scoring four tries on his debut.
"Wales will reflect on that day but you cannot judge a team on one performance and we know just how well they have played in the past year," said Betham.
"Their game was pretty flat and I'm sure they will be coming out firing this week so we will have to be on our toes to bear the brunt of that.
"We expected Wales to come out on top but Argentina showed if you are ready and if you really want it, it's anyone's game on the day.
"We do not see this as being able to take any advantage of a Welsh wobble. We see it more as Wales not letting their guard down any more and I am sure they learnt quite a bit over the weekend. We know we are in for a game."
The two sides last faced each other at the Rugby World Cup in New Zealand last year, with Wales edging a narrow 17-10 victory.
"We have ten of the team that played for us at the Waikato Stadium as well as five more who did not get on the pitch that day but played later on against South Africa," added Betham.
"They will all bring a lot of experience into this game. We also have youth coming through and everything we do now is planning for 2015 so we will try and get that experience through to the new breed and those who will take over the reins.
"Wales still have the same firepower as when we played them at the World Cup and on the back of the Six Nations they have grown in confidence as a team and work well as a unit so it will be hard to break them down.
"Before heading for our northern hemisphere tour, our goal was to improve our IRB rankings and we have to do what needs to be done to achieve that goal.
"On Friday night it will be the first time for most of the boys to play under a roof and it will suit us a bit better not having a wet ball but we know it is going to be a daunting task but we have to get on with the job."
"The biggest positive from the win against Canada on Friday night was the opportunity to get some fluency among the squad and various combinations between players."
"We had a two-day camp in Surrey when we tried to put everything together and then another few days leading into the Canadian game but basically we have got 30 players from 30 clubs so it was a struggle at first."