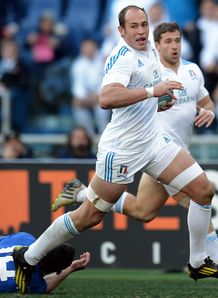 Related links
Teams
We asked five Planet Rugby scribes to name their 2013 Player of the Year...and got five different answers. Ben Coles argues the case for Sergio Parisse.
Sergio Parisse, the figurehead of Italian rugby, was perhaps a surprise inclusion among the list of nominees for the IRB Player of the Year Award last week - but he is a nominee none the less.
This selection is not without some substance.
A mixed year saw Parisse suspended for abusing a match referee before his long career in Test rugby eclipsed the 100 cap mark as the Azzurri impressed during the Six Nations before regressing in South Africa and then in November.
It is no coincidence that when Italy win, Parisse is one of the main causes. Yes, Italy don't come out on top that often - only three times in 2013 (that's one more than France) - but Parisse is a warrior.
In the win over Ireland he carried 15 times for 82 metres. Against France, he made 11 tackles - the joint-most of any Italian player - and 12 carries for 104 metres beating three defenders. His try in the opening five minutes was no close-range drive either, but a sprint away from the clutches of Wesley Fofana to leave the Stadio Olimpico rocking - and not for the first time either.
Those are two gigantic performances and it's no coincidence that in both the Azzurri finished on top on the scoreboard and picked up the win.
There has always been a sense of regret when wondering how a player of Parisse's talent would fare in a side surrounded by similar quality players, as Italy have continuously created a buzz before whimpering out during his time in the blue jersey.
His win percentage for 2013 - 30 per cent - is slightly higher than the percentage for his whole Test career at 29 per cent.
But just because those around him fail to hit similar heights doesn't mean that Parisse's talent should be ignored.
Continually described as world-class, the 30-year-old is showing no signs of slowing down and deserves recognition for his inspirational leadership and outstanding athletic talent.
by Ben Coles
@bencoles_