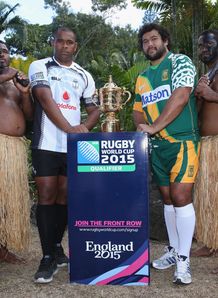 Related links
Teams
With just 500 registered players, the Cook Islands will battle Fiji in Lautoka on Saturday for a place in next year's Rugby World Cup, hosted by England.
This will be the biggest Test match in their history as the team ranked 46th in world rugby look to fell one of the tougher countries in the global game.
The winner at Churchill Park will take a place in Pool A at the World Cup alongside England, Australia, Wales and a yet-to-be-decided team.
Cook Islands captain and prop Stan Wright is one of a few full-time professionals and knows he is within touching distance of realising a dream.
"Playing in a Rugby World Cup is every little boy's dream and this is our chance to make our dream come true," the former Leinster player said.
"It's now or never for the boys and we might not have this chance again so we will give it our best shot.
"We have never been in this situation before and it's one game away from playing in the World Cup."
Wright and the Cook Islands reached the final qualifying match in the Oceania region by beating Papua New Guinea 37-31, the Solomon Islands 39-12 and Tahiti 38-5.
Fiji were forced to qualify after early elimination at the 2011 World Cup in New Zealand.
"The Fijian team are fast, big and they have a very quality team," Wright added.
"We have a mountain to climb and it's like the David and Goliath story."