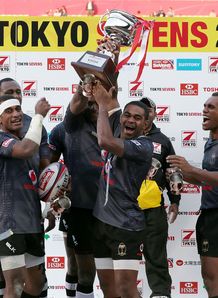 Related links
Teams
Fiji are considering boycotting the upcoming Commonwealth Games in Glasgow after being informed their Sevens team could not compete.
The islanders, who had their full suspension lifted just over a week ago, were initially not allowed to compete at all in July due to a 2006 military coup.
However, that news was tempered by the fact their Rugby Sevens and Netball teams would still be unable to compete, which has upset the nation.
"Our sevens rugby team has proven to the world by winning the World Cup twice that we can win medals at the Commonwealth Games," Reg Sanday, head of Fiji Association of Sports and National Olympic Committee, told BBC Sport, with Fiji having won the Tokyo Sevens last weekend.
"Imagine Brazil going to the Olympics without its soccer team or Jamaica running at the games without world champion Usain Bolt?
"Fasanoc will have a meeting tomorrow (Wednesday) to discuss a the boycott. We are upset by the decision by the games committee to exclude our rugby sevens and netball teams."