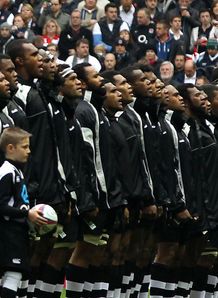 Related links
Teams
Fiji coach Inoke Male has accused European-based players who fail to make themselves available for the national team of lacking patriotism.
Responding to a disappointing Northern Hemisphere tour, in which Fiji lost three of their four matches, Male accused some players of putting their club careers before their country.
He said the Fiji Rugby Union (FRU) and International Rugby Board (IRB) had attempted to make it easier for players to take leave from their clubs for international duty but some of them had failed to respond.
"The players must be faithful enough to wear the national jersey," he told the Fiji Times.
"The FRU and IRB are doing their job getting the overseas-based players to represent the nation. But the players must have the guts to stand up and say that the country is more important."
Male, who complained after the 54-12 defeat by England at Twickenham that at least four of his picks for the national side were missing because their clubs would not release them, did not name any players.
However, the FRU lodged a formal complaint with their French counterparts earlier this month after Racing-Metro lock Jone Qovu withdrew from their squad.
Qovu had initially said he was injured but then played for Racing against Perpignan on October 27.
The French Rugby Federation responded by banning him from playing for Racing until December 4.
"We picked the right players but at the end of the day some of the players we contacted and talked to did not turn up," Male said.
"At the last minute when we arrived in England they sent faxes stating that they were injured. This affected our team preparation."
He said Fiji needed a stronger domestic competition to improve its international results over the long term and compete on the world stage.
"We need a tougher competition to be set up locally so we can match the strength of the overseas teams," he told the Fiji Broadcasting Corporation.