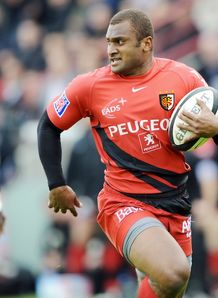 Related links
Teams
Former Fiji and Toulouse wing Maleli Kunavore has died in hospital in Suva at the age of 29.
Kunavore, who was equally at home at centre or full-back, brought a premature end to his career two years ago after suffering two major injuries to his left arm and undergoing a heart operation in February 2010.
The cause of death his unknown but the Fijian Rugby Union's development manager, Sale Sorovaki confirmed the news via a press statement.
"It is so sad to lose a fellow rugby player and (one) so young," he said.
"Kunavore was a very gifted and talented player. Our thoughts and prayers go out to his family."
Kunavore, who played in seven Tests for Fiji, made 80 appearances for Toulouse between 2005 and 2010 and was a member of the championship-winning side of 2008.
He was also part of Fiji's side that reached the 2007 World Cup quarter-finals.